Having recently received a list of every active Designated Player in Major League Soccer courtesy of our good friend @Soclandrew, the findings got us thinking.
Is Designated Player status criminally overlooked by Orlando City SC?
As we all know by now, the Designated Player or David Beckham rule was established back in 2007 whereby each MLS franchise is entitled to sign THREE players considered outside the team's salary cap, either via large wages or by paying the desired transfer fee.
Of course, New York City FC currently boast the high-profile trio of Frank Lampard (for now), David Villa and Andrea Pirlo while LA Galaxy boast Robbie Keane, Giovani Dos Santos and Steven Gerrard (oh and Ashley Cole and Nigel de Jong!).
For Orlando City SC on the other hand, the Lions' three active DP's currently endure massively contrasting fortunes!
While club captain Kaká needs no introduction, Orlando City SC's two other DP's take up either a bit-part role in the first team or moreover, represent the club's reserve outfit Orlando City B!
We're of course talking about Carlos Rivas and Bryan Róchez but when you look around Major League Soccer right now, outside Kaká, few other teams' DP's are so young, inexperienced and relatively unused to the extent that Orlando City SC's are.
Begging the question of course; is DP status something the Lions just aren't making the best use of?
Looking at the minutes racked up by all active DP's in Major League Soccer at the minute, Orlando City SC boast two players in the top ten bracket for those having received the fewest opportunities so far in 2016.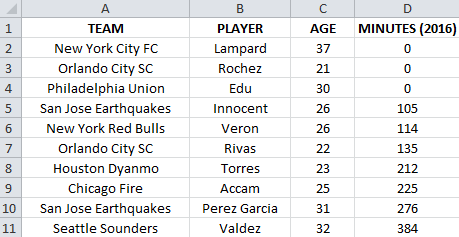 Active DP's in Major League Soccer (as of 17/05) – Fewest minutes in 2016 (Credit: @Soclandrew)
While the likes of Frank Lampard and Maurice Edu are out injured of course, both Carlos Rivas and Bryan Róchez are both fit but definitely not at the heart of Orlando City SC's week-to-week success like Kaká and what you'd expect from the role of a modern-day DP.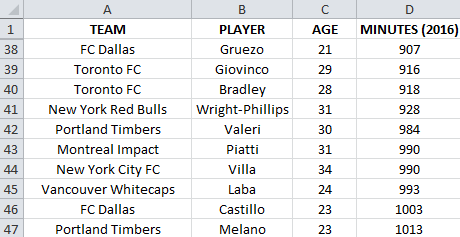 Active DP's in Major League Soccer (as of 17/05) – Most minutes in 2016 (Credit: @Soclandrew)
Looking at the other end of the scale for the most minutes from active DP's, the likes of Diego Valeri and Lucas Melano both appearing for the Portland Timbers proves a far greater use of Designated Player status, no?
They were MLS Cup champions in 2015 after all or perhaps both Michael Bradley and Sebastian Giovinco staying fit while keeping Toronto FC just two points off the Eastern Conference summit right now?
With Orlando City SC having only kept a single clean sheet so far in 2016, many Lions supporters are of the belief that sourcing a centre-back DP would be crucial for the club's short-term success going forward.

DP defenders in Major League Soccer (as of 17/05) (Credit: @Soclandrew)
However, history suggests DP defenders are a rare commodity because looking at the stats as a whole, there are currently only FOUR Designated Player defenders in all of Major League Soccer with EIGHTEEN midfielders and TWENTY-FOUR strikers representing the current picture.
There are currently no Designated Player goalkeepers although Tim Howard's arrival at Colorado Rapids will change this.
But looking at the average age of current Designated Players in MLS, this currently stands at 29 and with both Rivas and Róchez being 22 and 21-years-old respectively, this doesn't seem like the wisest use of the status.
While each club in Major League Soccer can tell their own personal stories about finances, investment and player recruitment, we just wonder whether Orlando City SC are making the best use out of the league's rules?
What do you think?
To download @Soclandrew's complete '2016 Active DP's in Major League Soccer' spreadsheet, click here.