According to a report from Portuguese newspaper O Jogo yesterday, Sporting Lisbon have joined Portuguese rivals Benfica in the race to sign Orlando City SC striker Cyle Larin.
The report claims the Canadian international is a player being "evaluated to meet the intent" of Sporting boss Jorge Jesus with the club valuing Larin at around €4 million.
Earlier this week, an initial report from fellow Portuguese source Record claimed it was Benfica who were eyeing up Cyle Larin but now it would be appear their cross-town Lisbon rivals Sporting are also keen.
However, Record's report admitted that a deal to take Cyle Larin to Lisbon would be complicated due to the fact the Lions strikers' rights belong to Major League Soccer.
"Not credible that a change can happen now" according to that source, Orlando City SC supporters will be desperately hoping this is the case with Cyle Larin's goals so crucial to our 2016 MLS Cup play-off qualification hopes.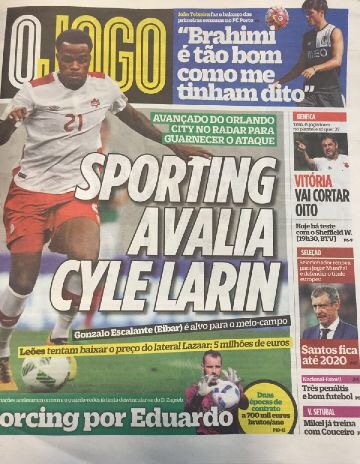 With Jason Kreis now on board following his appointment as new Orlando City SC head coach this week, at least there is now certainty over the direction the club is heading in.
Hopefully Cyle Larin will buy into that vision for now although every Orlando City SC fan accepts that the 2015 MLS Rookie of the Year will be looking to join a European side eventually.
With Benfica and Sporting Lisbon huge clubs in their own right, there is great appeal although many American fans will point to the failed transfer of Freddy Adu to the former Lisbon club back in 2007.
Orlando City UK also awaits news on the immediate future of Carlos Rivas after Record also recently claimed that Benfica B were closing in on a deal for Orlando City SC's Designated Player.