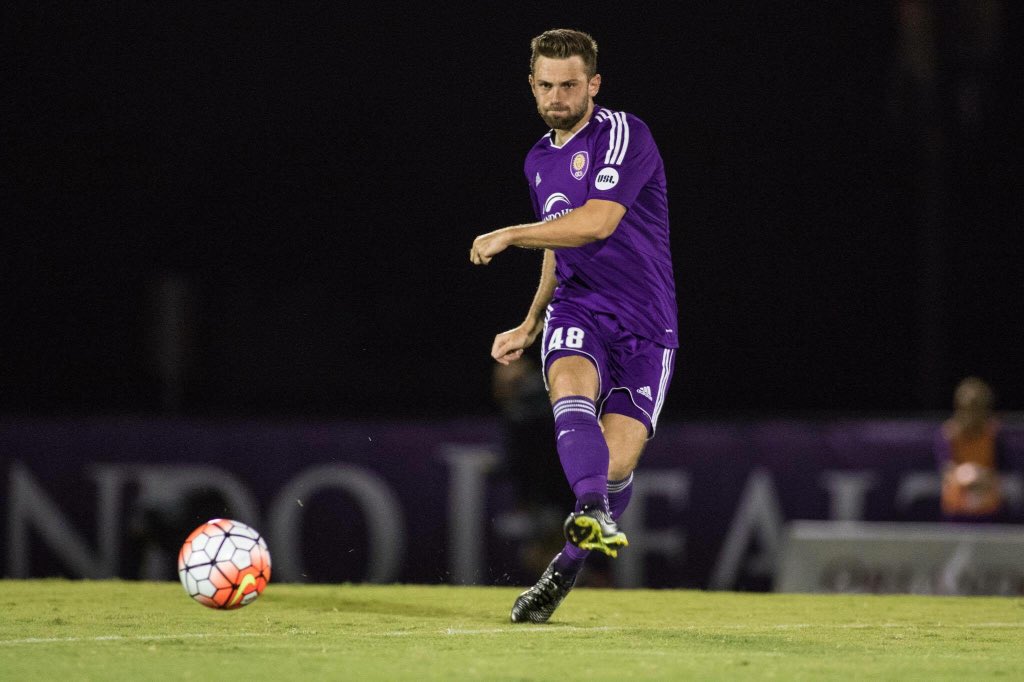 (Credit: @KyleMc4)
Having just completed his first full USL season with Orlando City B, Orlando City UK recently caught up with talented Lions defender Kyle Callan-McFadden.
Becoming one of Orlando City B's very first signings alongside now Orlando City SC stars Mikey Ambrose and Tony Rocha back in October 2015, the 21-year-old Irishman was a key figure for Anthony Pulis' side throughout 2016.
Making 22 appearances for our Brevard County affiliate this past season, Callan-McFadden achieved the fifth highest number of minutes (1770) for an Orlando City B player this term behind Michael Cox, Tyler Turner, Lewis Neal and Andrew Ribeiro.
A graduate of Norwich City's development system, Callan-McFadden made a big call when deciding to continue his football education in the United States last year.
With the Republic of Ireland Under-21 international having played alongside Harrison Heath in the Canaries' youth ranks, Callan-McFadden spoke to us about his career experiences to date, his favourite memory from 2016 and his future goals with Orlando City SC.
How did you get into football?
My family loved football so I guess I just grew up around it all the time and that's how I got into it.
What team did you support as a child?
I'm a massive Tottenham Hotspur fan and always was because my dad is a Spurs supporter so I just took after him I guess.
My mum and little brother are big Arsenal fans though!
Who is your footballing idol?
Roy Keane.
Just because he's an Irish legend and the way he played and carried himself around the pitch. So yeah he is my footballing idol.
If you weren't a footballer, what other career would you like to pursue?
If I wasn't a player, I think I would still want to do something within football.
Maybe like a physio or something like that but I'd definitely still want to be in and around the sport.
Where do you see yourself in 10 years?
Well I'm only 21 now so hopefully I am still playing at a high level wherever that may be.
What would you say are your strongest attributes?
Stronger attributes are probably my leadership skills, tackling, heading and passing.
I'm pretty loud and commanding on the pitch and as far as tackling and heading goes, I just think that's something all defenders need.
I think I'm pretty decent on the ball but there's always room for improvement.
What part of your game do you need to improve?
I would like to improve my left foot ability and my jumping height to head the ball.
It's always good to be comfortable with two feet, especially when playing at centre back if you're ever in trouble.
As for my jumping, 6ft isn't the tallest for a centre back so it would be good to be able to gain those extra inches above the strikers.
Who is your best mate at Orlando City SC?
I have a lot of good mates here at Orlando City SC but the closest one would be Harrison Heath.
Just because we played and lived together for two years in our time at Norwich City.
What is the best ground you've played at in your career so far?
It's got to be our home Titan Soccer Complex field in Melbourne hasn't it haha!
I really enjoyed playing at Red Bull Arena too; it reminded me of an English stadium.
What was your favourite memory from Orlando City B's 2016 campaign?
My favourite memory is beating Bethlehem Steel 2-0 to get into the USL playoffs on the final day of the season.
To get into the playoffs was a great feeling, given it was the decider.
What are your personal goals for 2017?
I just want to play every game, do well and keep developing while hopefully pushing on to the next level with Orlando City SC.
*THIS INTERVIEW WAS EXCLUSIVELY CONDUCTED BY ORLANDO CITY UK ON OCTOBER 28TH, 2016*