A frantic MLS off-season period has already began with Orlando City SC revealing the identities of the 11 players on their protected list today.
With both Atlanta United and Minnesota United taking part in the 2016 MLS Expansion Draft tomorrow, the following players cannot be signed by the Major League Soccer new boys this winter.
The 11 players on the protected list are Joe Bendik, José Aja, Rafael Ramos, Cristian Higuita, Kaká, Kevin Molino, Antonio Nocerino, Matías Pérez García, Brek Shea, Cyle Larin and Carlos Rivas.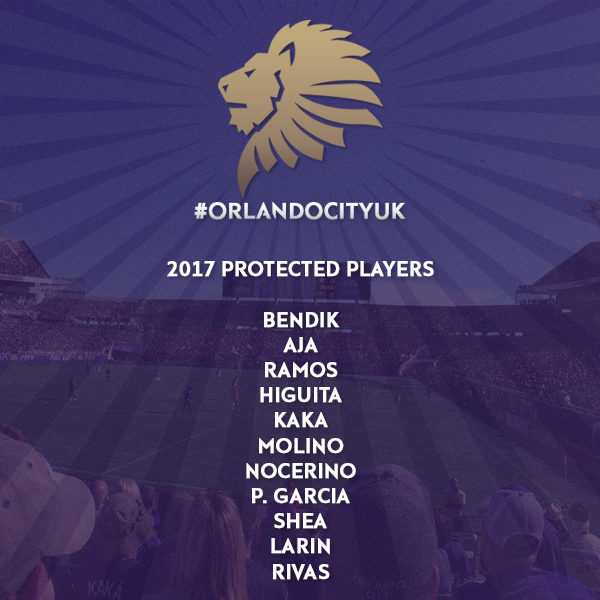 While most of those names on the list were expected to be present, there is something of a reprieve for both Brek Shea and Carlos Rivas who are still yet to truly realise their potential at Orlando City SC.
Another piece of news today is the fact that Rafael Ramos, Cristian Higuita and Cyle Larin have all received their U.S. Green Cards meaning they will no longer count as International Players in 2017.
So that leaves a plethora of unprotected Orlando City SC stars available for both Atlanta United and Minnesota United to potentially sign in tomorrow's draft.
The unprotected list includes Earl Edwards Jr., Kevin Alston, Mikey Ambrose, Luke Boden, Seb Hines, David Mateos, Servando Carrasco, Devron García, Tony Rocha, Júlio Baptista, Hadji Barry, Pedro Ribeiro and Bryan Róchez.
Of that list, Alston, Boden and Hines' options were not exercised for 2017 and although new contracts can still be re-negotiated for this particular trio, they are unprotected for now and thus, available.
With the Re-Entry Draft taking place on Friday, this is a busy week in Major League Soccer and we already saw Harrison Heath traded to Atlanta United yesterday of course.
What are you making of Orlando City SC's protected list ahead of 2017?
Comment below or tweet us at @Orlando_CityUK to let us know!