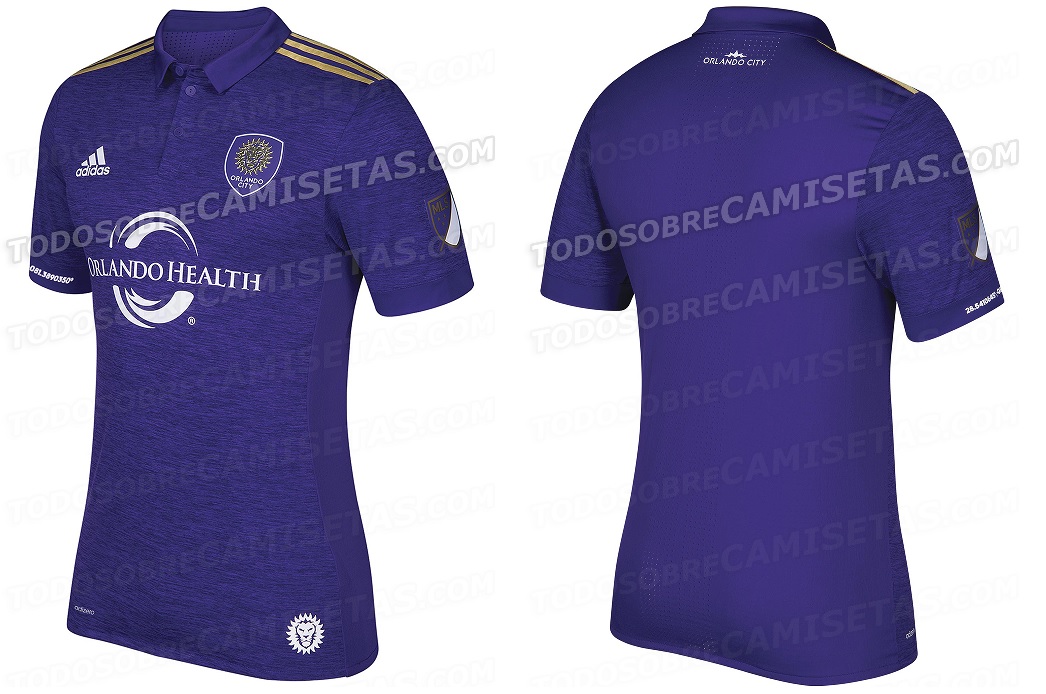 (Credit: TodosobreCamisetas.com)
So on Wednesday, Orlando City SC released the vaguest of sneak peaks of the new 2017 Orlando City SC home jersey and today, we received a full leak!
Not officially from the club but rather TodosobreCamisetas.com, a Mexican source who have been the first to leak images of the front and back of what we believe, for now, will be the new 2017 Orlando City SC home jersey.
NEW KIT ? | So we've got our first leak of the 2️⃣0️⃣1️⃣7️⃣ @OrlandoCitySC home jersey folks!

Digging it? Hating it? Let us know! ?#OCSC pic.twitter.com/jg3z39LFL7

— Orlando City UK (@Orlando_CityUK) February 10, 2017
Having worn the same Adidas design for two full Major League Soccer seasons, Orlando City SC's rumoured fresh look is impressive on first glance.
Shirt fabric
One of the most noticeable design features is the melange effect on the shirt fabric with cut-off gold Adidas stripes incorporated instead of white full shoulder to sleeve stripes. Manchester United's 2016/17 away shirt uses the same Adidas template.
Button-up collar
The biggest new aesthetic on the leaked 2017 Orlando City SC home jersey is probably the button-up collar – a first on any Orlando City SC jersey to date.
Rubber club crest
Then there is the Orlando City SC club crest which takes the form of rubber transfer on the authentic jersey, while we assume the cheaper fan jersey will incorporate an embroidered crest, such has been the case previously.
Our iconic lion logo is composed of shiny material with raised 'Orlando City' lettering.
Orlando City Stadium co-ordinates
A really cool subtle effect on the leaked 2017 Orlando City SC home jersey is the co-ordinates of our new Orlando City Stadium (28.5410645°, -081.3890350°), that are incorporated in white font on the bottom of the right shoulder sleeve.
Lion jocktag
Another eye-catching feature is what those in sports merchandising refer to as the 'jocktag'.
While we may have been expecting the state flag of Florida given Portland Timbers and New York City FC's recently unveiled jerseys incorporated their regional flags, what we have is a repeat of our iconic Lion logo from the club crest, placed in the bottom left hand corner.
It's smart, for sure, but we think the state flag of Florida would've popped even more!
Rear 'Orlando City' lettering with crown
The final design feature we haven't mentioned yet has actually been carried over from the 2015/16 Orlando City SC home jersey.
Indeed, the rear neckline of the leaked 2017 Orlando City SC home jersey yet again features raised 'Orlando City' lettering, this time in white, with our Lion's crown sitting above the letters.
What did you guys make of the leak?
So there you have it!
Here at Orlando City UK, we're pretty sure the leak is legit given this time last year, Footy Headlines leaked our 2016 Orlando City SC away jersey which turned out to be the real thing.
In an Orlando City UK poll that still has 20 hours to run, it appears most of you are content with Adidas' latest effort, although some still feel they could've done better!
What are ya'll making of the new 2️⃣0️⃣1️⃣7️⃣ @OrlandoCitySC jersey folks!? ???#OCSC #MLS

— Orlando City UK (@Orlando_CityUK) February 10, 2017
With the leak having transfixed OCSC Twitter all Friday, Orlando City UK gathered some of the best reactions from the Twittersphere…
@Orlando_CityUK @OrlandoCitySC Pretty smart looking shirt that ?(or 'jersey' sorry) ?

— Emma Trill (@RookeryEmma) February 10, 2017
@Orlando_CityUK @OrlandoCitySC looks the nuts, like the collar

— Mike Moyes (@mikemoyes1987) February 10, 2017
@Orlando_CityUK @OrlandoCitySC not feeling the collar though. Buy I like the rest

— Steffani Taylor (@SteffaniT7) February 10, 2017
???????? #ThisIsOrlando pic.twitter.com/GnisiRmqOf

— Iron Lion Firm (@IronLionFirm) February 10, 2017
@Orlando_CityUK @OrlandoCitySC love a kit with a collar! I hope this is close to accurate.

— The Brewtiful Game (@BrewtifulGame) February 10, 2017
@Orlando_CityUK @OrlandoCitySC Hating the collar, ill stick to my 2015 / 2016 shirts

— Josh (@bwcboots) February 10, 2017
@Orlando_CityUK @OrlandoCitySC Like the collar. The texture of the shirt looks interesting!

— Ryan Heatly (@RyanHeatly) February 10, 2017
@Orlando_CityUK @OrlandoCitySC I think it's quite nice, not overly won over but not disappointed. Pretty smart

— Charlotte (@KirbyHazard) February 10, 2017
@Orlando_CityUK Love the collar but feel like its missing 'something'….? Not sure what…..but looks too much like a training shirt

— Martin Collins (@MartinC_94) February 10, 2017
@Orlando_CityUK @OrlandoCitySC love it

— Jen Hutton ? (@Jen_Hutts23) February 10, 2017
@Orlando_CityUK @OrlandoCitySC love the jersey, hate the collar

— OTown93 (@CityTilliDie_) February 10, 2017
@Orlando_CityUK Will probably get this when I go to the opener! #ComingHome

— Matt Chappell (@mattchapp96) February 10, 2017
@Orlando_CityUK @OrlandoCitySC That is class. Would rather it was purple/gold or purple/white throughout though in truth.

— Jack (@jacksb7) February 10, 2017
@Orlando_CityUK @OrlandoCitySC love the crest

— Cody (@codycovert29) February 10, 2017
@Orlando_CityUK @OrlandoCitySC ????

— Kyle (@KyleHenson4) February 10, 2017