(Credit: Orlando City SC)
It's finally here guys! Today marked the official launch of the brand new 2017 Orlando City SC home jersey and last week's leak proved to be totally accurate.
A slick new look released in line with the Lions' #ComingHome celebrations, Jason Kreis' side will competitively wear the jersey for the very first time against New York City FC in our 2017 MLS home opener.
What's new?
This year, the 2017 Orlando City SC home jersey takes on much more of a casual look with Adidas incorporating heathered Adizero material.
This year, the jersey is the first ever Orlando City SC kit to incorporate a button-up collar, further underlining the casual aesthetic.
This year, the jersey features cut-off metallic gold Adidas stripes instead of extensive white material stripes.
This year, the jersey contains the co-ordinates of our brand new Orlando City Stadium (28.5410645°, -081.3890350°) on the base of the right sleeve.
This year, the jersey contains an Orlando City SC club crest that is raised with a metallic gold finish
This year, a white Orlando City SC lion head features in the bottom left hand corner of the jersey as the jocktag.
This year, Joe Bendik, Josh Saunders and co will wear a black Orlando City SC goalkeeper jersey instead of green with the colour of the away variation yet to be revealed.
"Looks sharp." ?#ComingHome

?: https://t.co/GItyFZye1Tpic.twitter.com/ZReShfEOML

— Orlando City SC (@OrlandoCitySC) February 17, 2017
Oh and this 2017 Major League Soccer campaign, it looks like Matías Pérez García has taken Adrian Winter's old squad number of 32 with the keen eyed amongst you spotting this in the launch video.
MPG seems to have changed his number to 32 pic.twitter.com/T1OvFReB65

— McMarston (@Mc_Marston) February 17, 2017
What's been retained?
Well, the colour purple (obviously!) but aside from that, our Lion logo's crown has been retained on the rear neckline with the words 'Orlando City' etched beneath it.
Additionally, Orlando Health continue to proudly sponsor Orlando City SC having enjoyed this role since the very beginning in 2011.
Seven years strong. See the new look coming up at 11. #NeverHuntAlone pic.twitter.com/o8u0Fi0eWW

— Orlando City SC (@OrlandoCitySC) February 17, 2017
Buying in the UK?
For those lucky Orlando City SC fans over in the United States, they will receive the first chance to buy the new 2017 Orlando City SC home jersey tonight at a Fan Forum, or alternatively, a pop-up store at Colonial Plaza will be open this Saturday and Sunday.
So what about the rest of us in the UK?
Well, if you want to avoid hefty transatlantic shipping costs via MLSStore.com, Manchester-based Kitbag.com are already stocking 2017 Orlando City SC training gear and we'll be the first to alert you when they begin stocking the new 2017 Orlando City SC home jersey.
What's more, Orlando City UK also offer UK-based Orlando City SC fans 10% off their purchases on Kitbag.com by using the discount code 'ORLANDO10'.
Click here for more information on how to apply this discount code at checkout.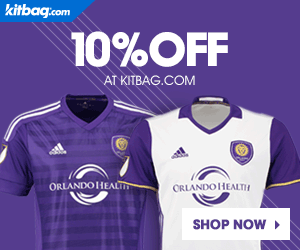 So check out their Orlando City SC range today and kit yourself out in purple!
What are YOU making of the new 2017 Orlando City SC home jersey?
Comment below or tweet us at @Orlando_CityUK to let us know!