So the day we've waited oh so long for is almost here Orlando City SC fans! After what has felt like an absolute eternity, Sunday March 5th is upon us – the Lions' first ever competitive game at Orlando City Stadium.
It's ironic that Patrick Vieira's New York City FC are the first ever visitors to our brand 25,500-seater soccer-specific facility given NYCFC were our first ever MLS opponents back on March 8th 2015 at the Citrus Bowl.
Orlando City SC have enjoyed some highly memorable battles with our 2015 Major League Soccer expansion rivals in the two seasons elapsed and of course, there is the extra dimension of Jason Kreis facing the side he formerly managed.
A lot has already been made about the significant advantage Orlando City SC could enjoy in their new home in 2017 and beyond.
Not only featuring grass turf compared to the notorious synthetic astroturf at Camping World Stadium, Orlando City Stadium has been compactly designed so that our supporters can create more of an intimidating atmosphere close to the pitch.
While time will dictate how much of an advantage this will give Orlando City SC in the long run, Sunday's fixture will be completely new for both teams with New York City FC as familiar with the surroundings as our beloved Lions.
Starting a new season fast is imperative for any professional soccer team but even more so for Orlando City SC who have only managed to draw their two MLS openers to date, 1-1 against New York City FC in 2015 and 2-2 against Real Salt Lake in 2016.
While last year's draw with RSL felt like a victory given the Lions' incredible stoppage time comeback, a victory would be a fantastic way to yield a greater belief that Orlando City SC can finally make the playoffs in 2017.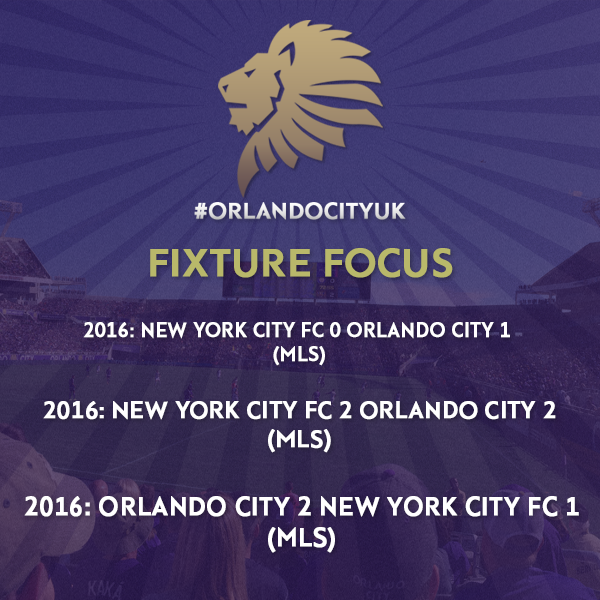 2015/16 head-to-head stats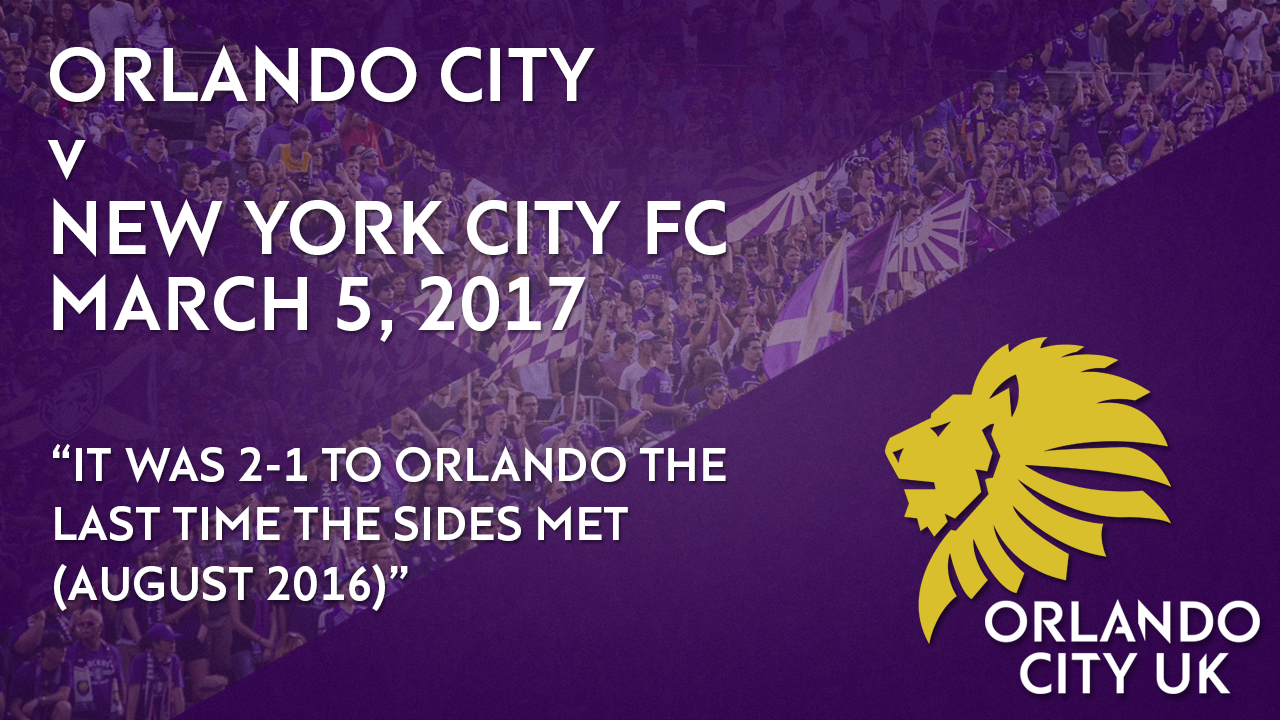 Going into last year's third and final meeting against NYCFC, Jason Kreis' Lions were FOUR games without a win and desperate for three points to boost our chances of qualifying for the 2016 MLS Cup Playoffs.
While those hopes died as we're all too familiar, club captain Kaká stole the show on an overcast day in Central Florida with a brace either side of a 55th minute Stiven Mendoza equaliser.
Earning Jason Kreis a morale-boosting victory over the side that had sacked him in November 2015, Kaká was as cool as ice to tuck away a penalty kick winner past now Orlando City SC squad member Josh Saunders.
With our Brazilian superstar tripped by Luxembourg international Maxime Chanot in the 63rd minute, this was a key victory at the time.
Orlando City SC 2 New York City FC 1 – Highlights – August 28, 2016 (Credit: New York City FC)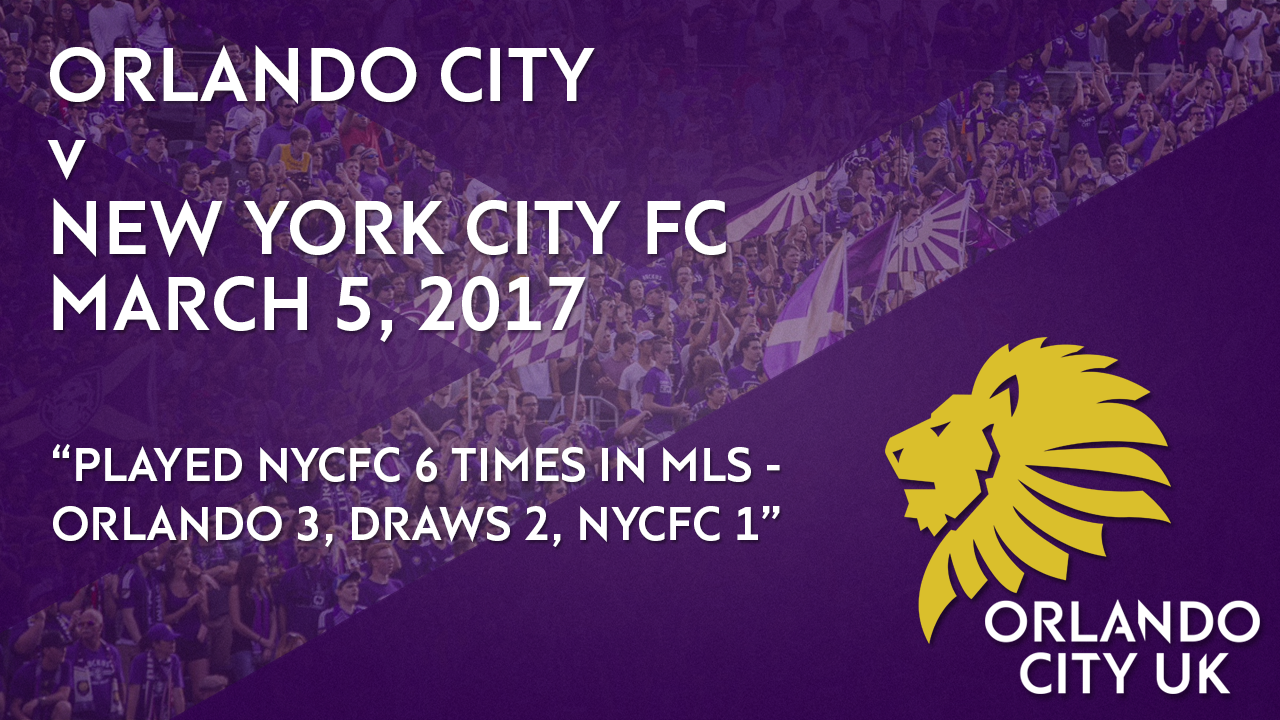 A stat that makes for great reading heading into our March 5th opener, Orlando City SC have been used to getting the better of New York City FC in Major League Soccer to date.
While the side from the Empire State have managed to make the MLS Cup Playoffs once unlike the Lions, Orlando City SC have only lost to NYCFC ONCE in six head-to-heads contested so far.
The amount of NYCFC wins over Orlando City SC could've oh so easily been TWO had it not been for a late, late 94th minute equaliser from Kevin Molino at Yankee Stadium back in May 2016 – a truly memorable strike.
New York City FC 2 Orlando City SC 2 – Highlights – May 29, 2016 (Credit: New York City FC)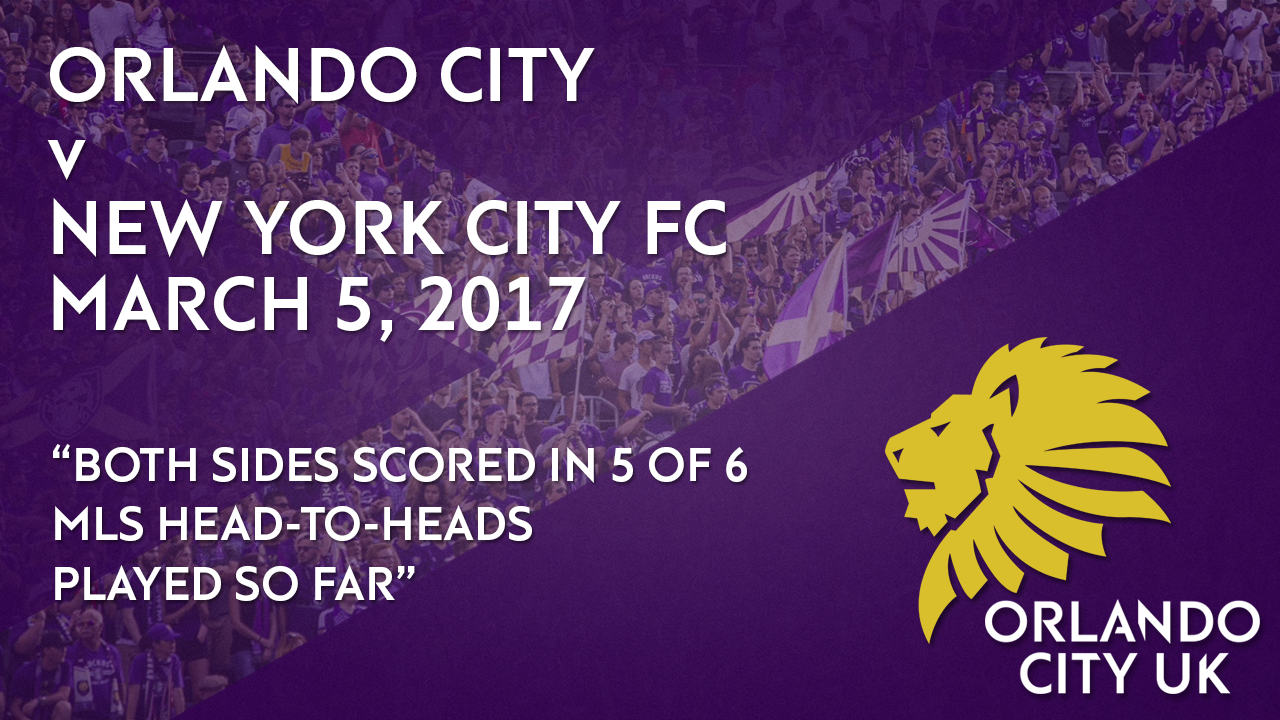 While we all know that Orlando City SC fixtures are good for plenty of goals and in some cases, too much entertainment, games against New York City FC have proved particularly watchable.
After all, both sides have scored in FIVE of the SIX MLS head-to-heads played so far. From the 1-1 draw in the 2015 opener that marked both clubs' entrance into Major League Soccer, to last August's 2-1 City victory, goals have been aplenty.
The only anomaly was Orlando City SC's 0-1 win over New York City FC at Yankee Stadium in March 2016.
This was an incredible backs to the wall style victory that was only ONE of FIVE clean sheets kept all season – a stat that needs significant improvement in 2017.
New York City FC 0 Orlando City SC 1 – Highlights – March 18, 2016 (Credit: New York City FC)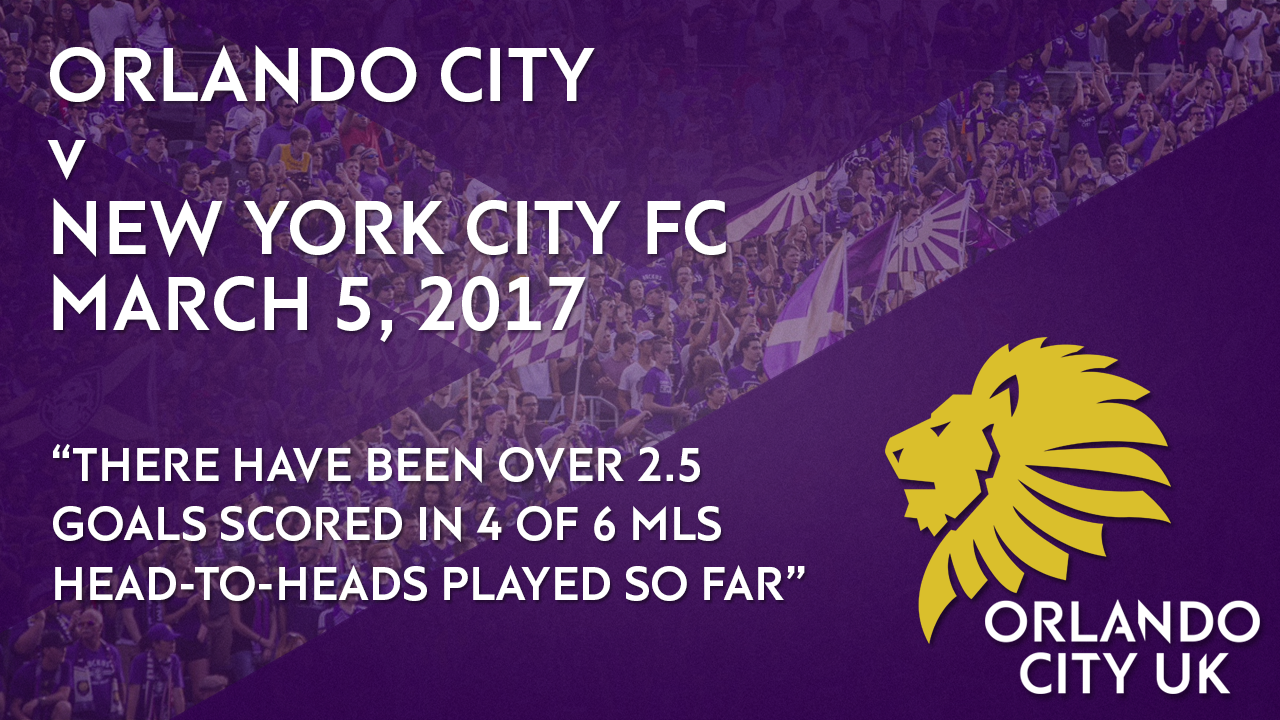 Not only have we witnessed BOTH sides scoring in the SIX MLS head-to-heads played so far. We've also seen Orlando City SC versus New York City FC fixtures produce OVER 2.5 GOALS on FOUR occasions to date.
Backing OVER 2.5 GOALS in Orlando City SC fixtures would've made you a healthy profit last season and it is imperative that the likes of Jonathan Spector, José Aja, Seb Hines and Tommy Redding offer better protection for Joe Bendik this term.
Orlando City SC form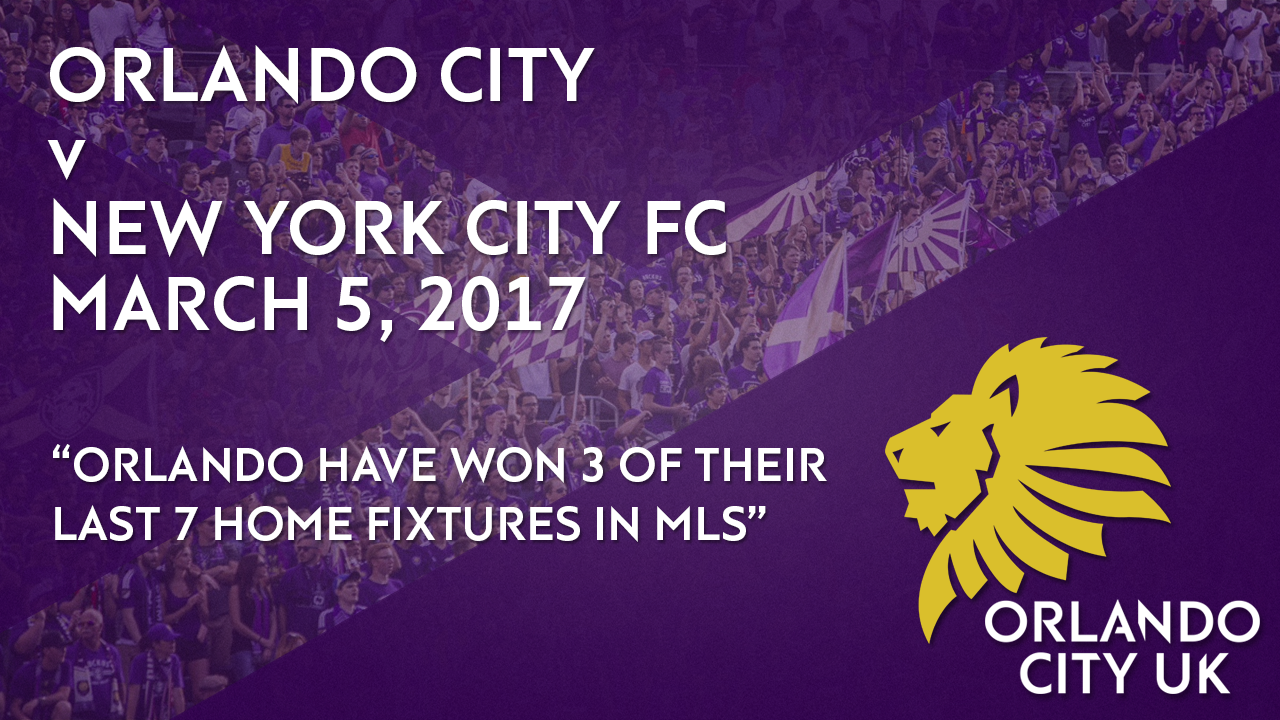 Undefeated at Camping World Stadium for OVER a year in Major League Soccer between July 2015 and August 2016, our proud home record trailed off in the latter part of last year.
With Seattle Sounders having broken our undefeated cycle on August 7th 2016, damaging home defeats to Toronto FC, Columbus Crew and Montreal Impact thereafter ensured 2016 MLS Cup Playoff qualification were out of reach.
Having only won THREE of our last SEVEN home fixtures in MLS, Orlando City SC will be hoping to bag all three points for the very first time in an MLS opener.
New York City FC form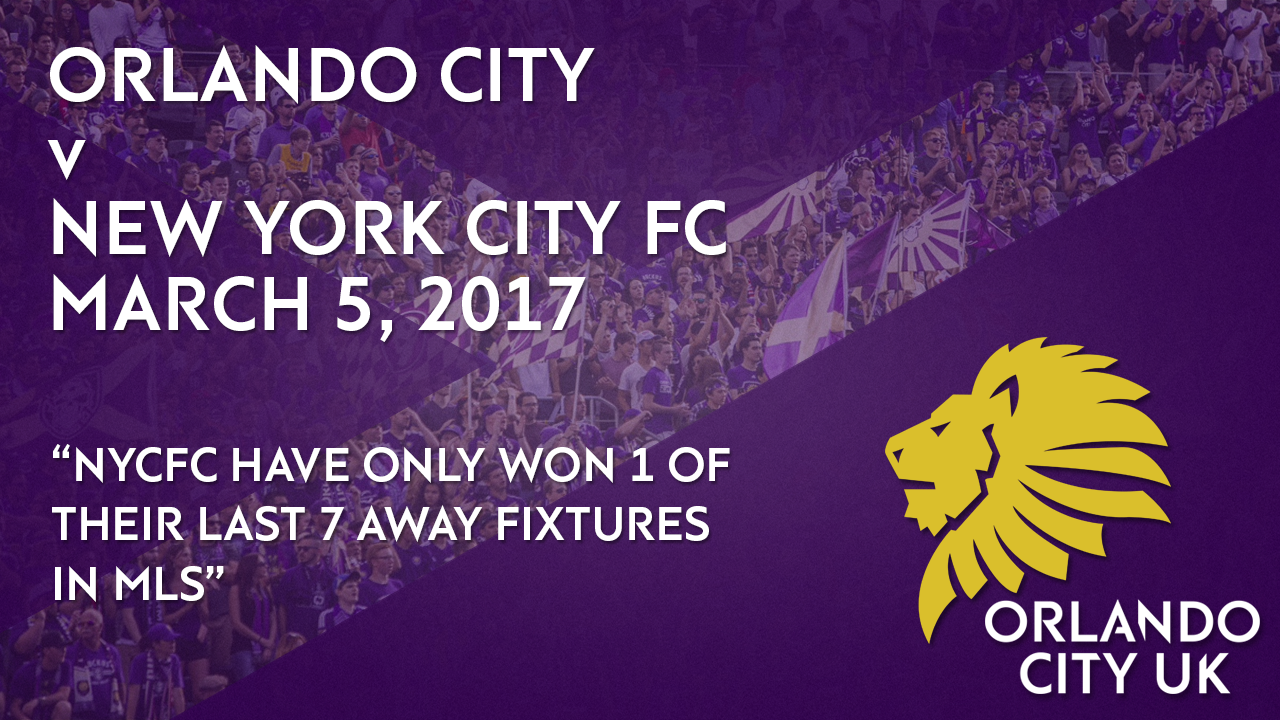 Despite it being a brand new season, New York City FC carry over poor road form from the 2016 Major League Soccer campaign.
In NYCFC's last SEVEN away fixtures in MLS, Patrick Vieira's side have only managed ONE victory – against Houston Dynamo at BBVA Compass Stadium on September 30th 2016.
Defeated in FOUR of those SEVEN games, Orlando City SC will be hoping that their poor road form continues into the first game of 2017.
With THREE Orlando City SC versus New York City FC fixtures having taken place in Central Florida to date, the point from both clubs' first ever MLS game on March 8th 2015 is still NYCFC's only point earned in our home state.
Orlando City SC are still undefeated against NYCFC at home having won the TWO other fixtures 2-1 in October 2015 and 2-1 again in August 2016.
March 8th 2015 – Orlando City SC 1 New York City FC 1
October 16th 2015 – Orlando City SC 2 New York City FC 1
August 28th 2016 – Orlando City SC 2 New York City FC 1
What do you think the Orlando City SC versus New York City FC score will be on Sunday?
Comment below or tweet us at @Orlando_CityUK to let us know!