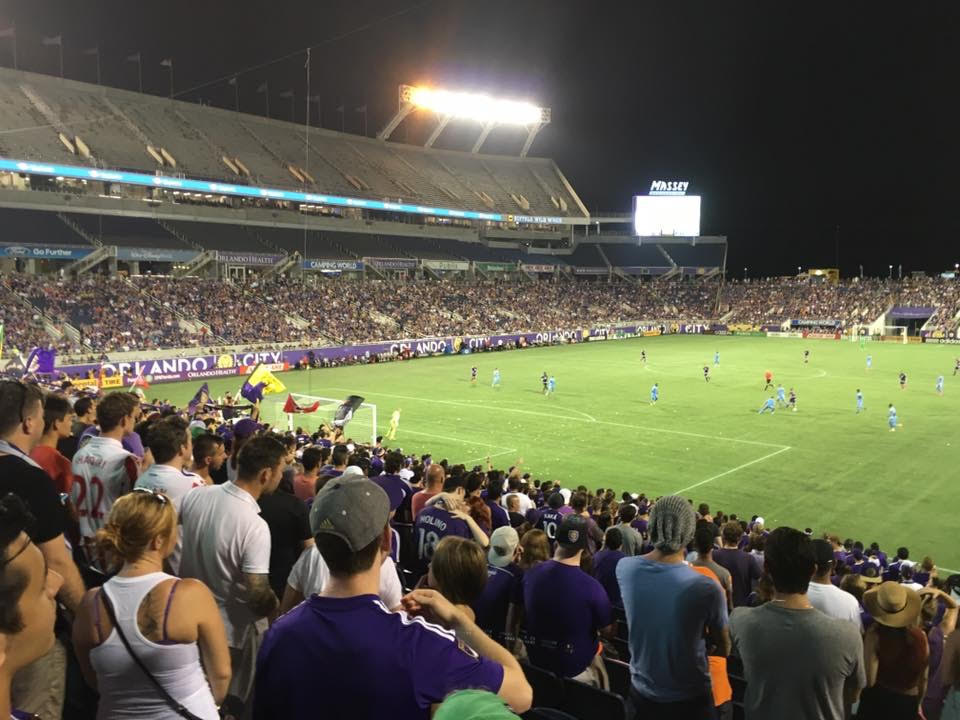 (Credit: @GiantsBenson11)
Orlando City UK are growing all the time and we are discovering more and more Brits who share a similar interest in supporting Orlando City SC.
We recently caught up with Northern Ireland-based Orlando City SC supporter Cameron Benson who has been following the Lions from County Antrim since 2015.
Here's what Cameron, a development football coach himself, had to say.
Cameron Benson: Why I support Orlando City SC
The first time I heard about Orlando, my initial thought was like most British people – Walmart, Walt Disney World and the long haul flight across the Atlantic Ocean.
Not a Major League Soccer football team and certainly not a city which now contains in my opinion, the best supporters in the league.
I've always been a huge football fan and I coach development level at my local club. My second thought about Orlando was – does this city have a football team?
When I researched Orlando City SC, I was not only delighted about a team existing but the fact it also had footballing legend Kaká on their roster.
I had never watched MLS before, heck I just about knew what it stood for. However, my familiarity with Orlando as a destination meant it was easy to pick an American team to follow.
This choice was justified even further during Orlando City SC's first season in Major League Soccer. I watched the Lions as much as possible, learning everything from rookie sensation Cyle Larin to The Ruckus and the slogan 'Man The Wall'.
In August 2016, I got the chance to finally see Orlando City SC play live in a 2-1 victory against New York City FC.
Kaká put us one-nil up on the counter attack from an NYCFC corner and in the second half, he scored a penalty to put us 2-1 ahead.
Jumping around singing 'Vamos Orlando' is something I won't be forgetting in a hurry as well as the amazing fans I met at the game.
Although Orlando City SC is still a young club, the fans are knowledgeable and it's great to see Major League Soccer developing all the time.
By the end of the 2016 season, I felt we were unlucky. We had a hardworking team on the pitch, great leadership from the management and an incredible, developing fanbase that supports the team regardless of the result.
Although we didn't make the 2016 MLS Cup Playoffs, I am hopeful we can finally make it in 2017.
With the new 2017 Major League Soccer campaign now underway, it's time to rally behind our boys in purple. That's all we can do.
If we let them know how passionate we are about this team and the city, anything can happen.
Vamos Orlando!
Cameron Benson