There's a break from league play this Wednesday evening as Orlando City SC host fellow Floridian outfit Miami FC in the fourth round of the 2017 Lamar Hunt U.S. Open Cup.
Managed by Italian defensive legend Alessandro Nesta and co-owned by another in Paolo Maldini, the NASL franchise will view this local fixture like a final with just 3 hours, 50 minutes separating the sides via Florida's Turnpike.
In many ways, this fourth round fixture isn't the game Orlando City SC supporters were hoping for with Miami FC having eliminated the Lions' great rivals Tampa Bay Rowdies 2-0 in the third round back on May 31st.
Instead of a fiery sought-after encounter with Stuart Campbell's Rowdies, Jason Kreis' Lions now face a side they've never played before in Miami FC.
Only founded in May 2015 and not to be confused with David Beckham's proposed Major League Soccer franchise in The Magic City, Miami FC are currently enjoying their second season in NASL after finishing in a combined 7th place in 2016.
Currently first in the NASL Spring Season standings after 11 games played, Alessandro Nesta's side are looking a real force this year and with former New York City FC midfielder Kwadwo Poku currently on 11 goals so far this season, Orlando City SC must be wary.
Beating South Florida Surf (3-2) and Tampa Bay Rowdies (2-0) to reach the fourth round, this fixture represents Miami FC's first road test in the 2017 Lamar Hunt U.S. Open Cup but they'll be full of confidence.
With Miami FC already carrying the #BeatOrlando hashtag on their social media accounts in anticipation of this tie, it's up to Jason Kreis and Orlando City SC to ensure we avoid an embarrassing cup upset like we endured against Fort Lauderdale Strikers last season.
Although qualifying for the 2017 MLS Cup Playoffs is Orlando City SC's primary aim this season, a decent run in the 2017 Lamar Hunt U.S. Open Cup will only help boost team morale.
Head-to-head stats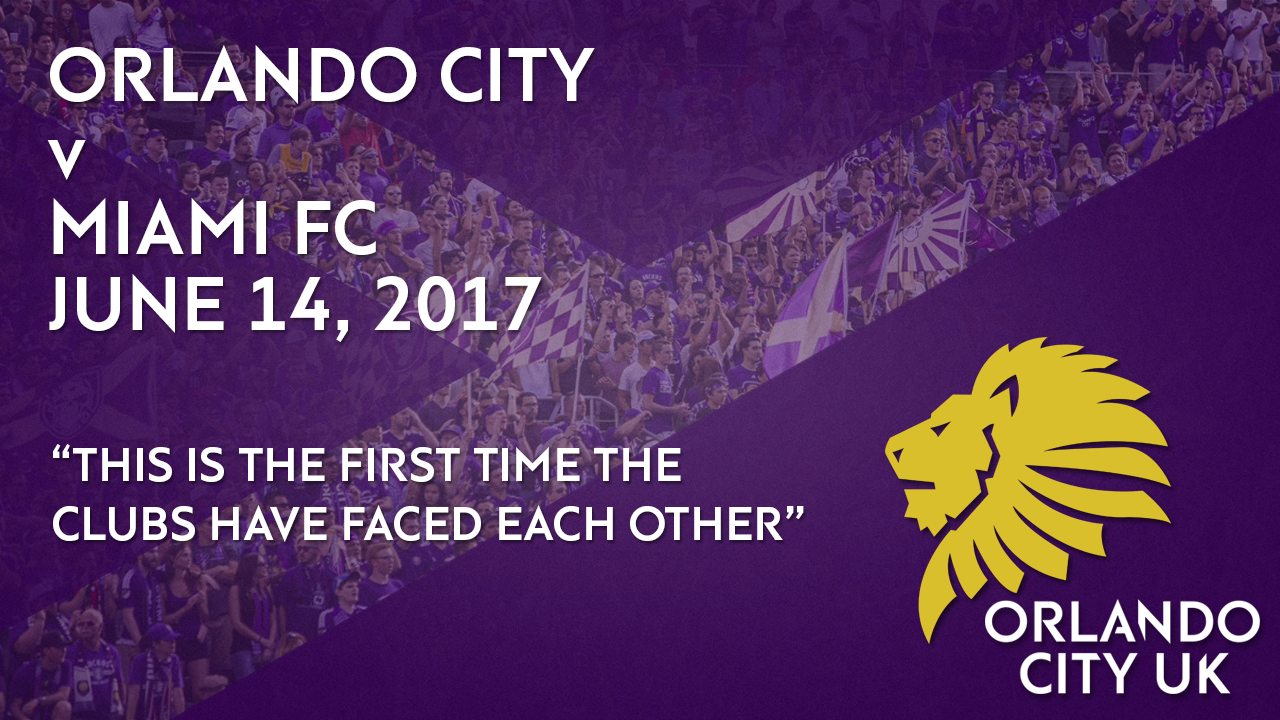 As discussed at the outset, this is the first time Orlando City SC have ever faced Miami FC. Despite sharing the same state, both sides have avoided each other in pre-season competition too.
With this being the case, Jason Kreis and his backroom staff will have meticulously watched all of Miami FC's match videos this season to assess their strengths and weaknesses.
2016 Lamar Hunt U.S. Open Cup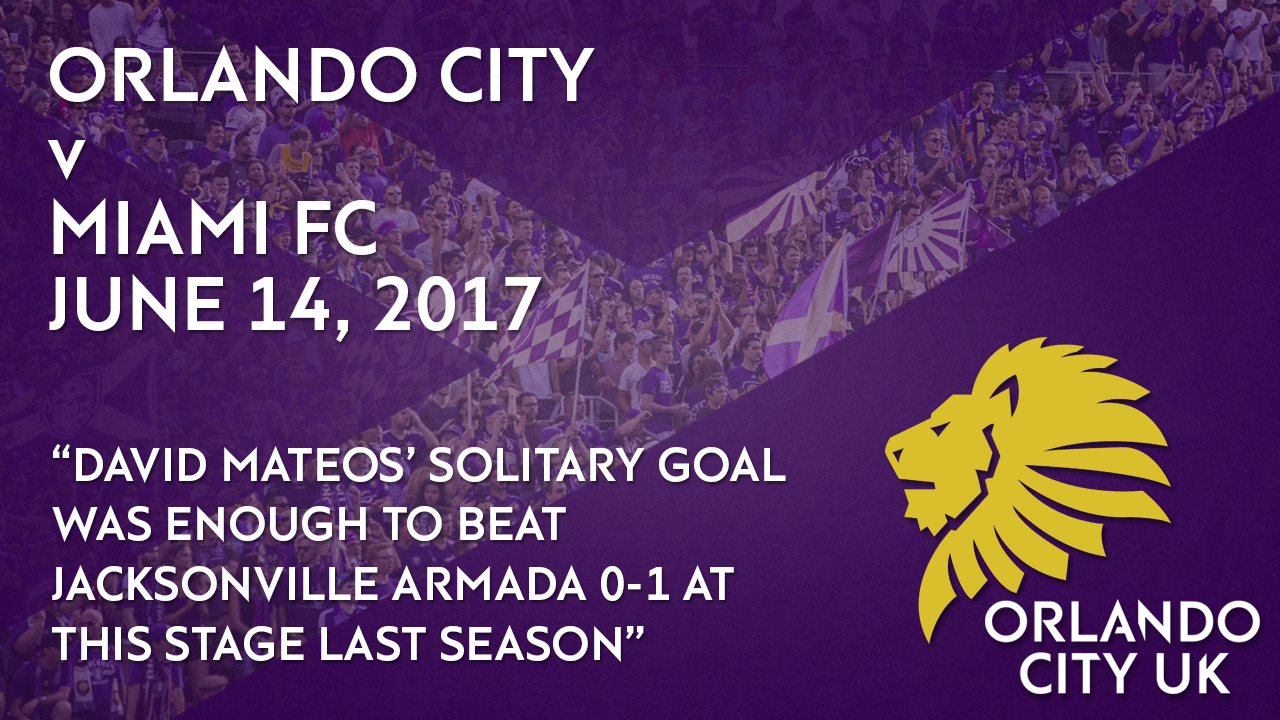 This time last year in the fourth round of the 2016 Lamar Hunt U.S. Open Cup, Orlando City SC faced North Floridian opponents in the form of Jacksonville Armada.
Only squeezing past Armada 0-1 thanks to a poacher's goal from the unlikely David Mateos, the game was played in muted circumstances only three days after the tragic 2016 Orlando nightclub shooting.
The first time an Orlando-based sports team played a sports fixture after the attack, the Lions could at least claim they helped raise spirits in their own small way.
Jacksonville Armada 0 Orlando City SC 1 – Full Game Highlights – June 15, 2016 (Credit: U.S. Soccer)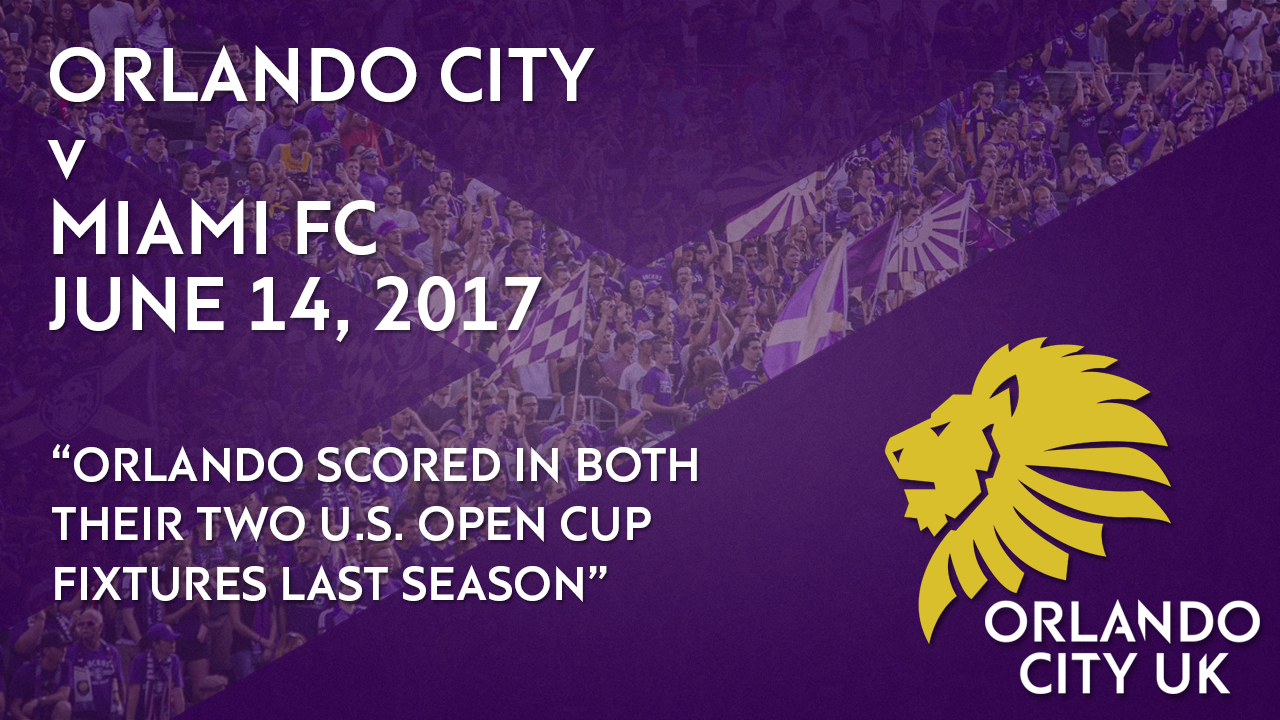 Although we only managed to reach the round of last 16 stage of the 2016 Lamar Hunt U.S. Open Cup, Orlando City SC did manage to score in both cup fixtures they were involved in last season.
In addition to David Mateos' goal that was enough to overcome Jacksonville Armada in round four, Kevin Molino equalised against Fort Lauderdale Strikers thereafter in a game we'd all like to forget.
Unfortunately for the Lions, Orlando City SC's involvement in the 2016 Lamar Hunt U.S. Open Cup only spanned two rounds.
Losing a game every Orlando City SC supporter expected to win against Fort Lauderdale Strikers in round four, the evening started in the worst possible way with José Angulo putting Strikers 0-1 up after 12 minutes.
Although it only took City just three minutes to equalise through Kevin Molino, Orlando City SC failed to take control from this point with the game extremely scrappy and fiery.
The 65th minute was a major flashpoint as Molino, Maicon Santos and current Lions star PC clashed in a melee where the Trinidad and Tobago international saw red alongside Maicon Santos.
In the end after a gruelling game that went into extra-time, it's now ironic that PC was the man to score Fort Lauderdale Strikers' winner in the 120th minute.
Orlando City SC 1 Fort Lauderdale Strikers 2 – Highlights – June 29, 2016 (Credit: CNC Florida Central)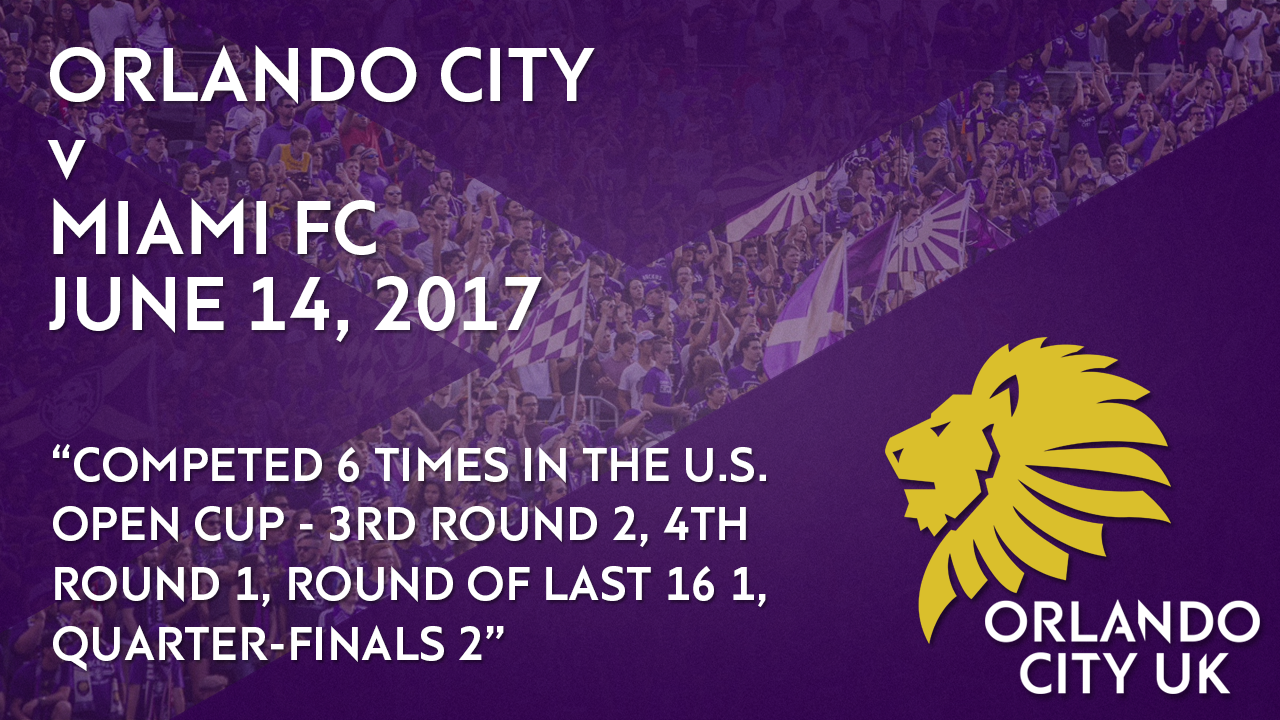 Still a relatively new soccer franchise of course, Orlando City SC are only competing in the Lamar Hunt U.S. Open Cup for the seventh time.
Yet to win the oldest national soccer competition in the United States, the furthest Orlando City SC have gone is the quarter -final stage, reaching the last eight in both 2013 and 2015.
Eliminated by Chicago Fire on both of those occasions, 5-1 in 2013 and 3-1 in 2015, here's hoping we can go even further in 2017.
Orlando City SC form
Looking back on Orlando City SC's historical involvement in the U.S. Open Cup, the Lions' all-time leading goalscorer in the competition is the since departed Kevin Molino.
Scoring in the Lions' first ever game in the competition, a 4-0 victory over ASC New Stars in June 2011, his most recent cup goal for the Lions came in that forgettable Fort Lauderdale Strikers loss last June.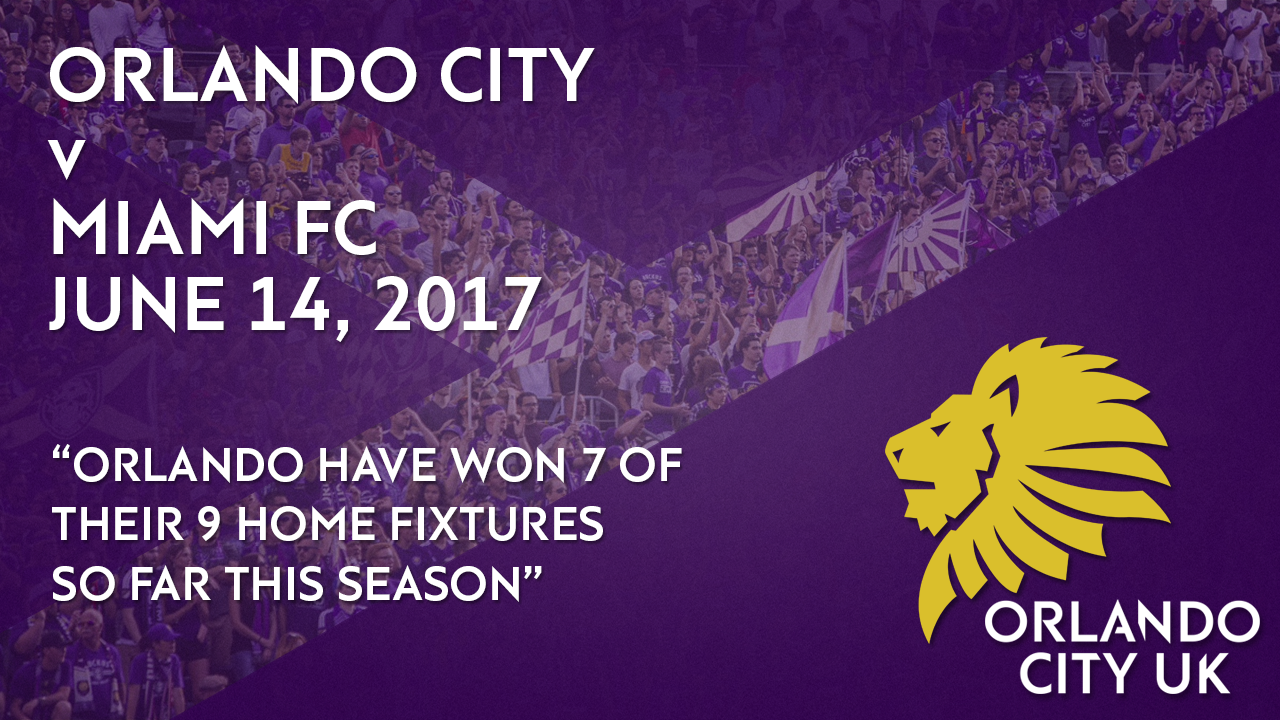 Digging deep to maintain our great home record against D.C. United (2-0) and Chicago Fire (0-0) in Major League Soccer recently, Orlando City Stadium is still very much a fortress.
Winning SEVEN of our NINE home games so far this season, New York City FC's 0-3 win on May 21st is STILL the only loss we've suffered in Central Florida so far this season.
Orlando City SC 0 Chicago Fire 0 – Highlights – June 4, 2017 (Credit: Chicago Fire)