After being embarassed 1-3 by Miami FC in the fourth round of the 2017 Lamar Hunt U.S. Open Cup on Wednesday, it's a fourth home game in a row for Orlando City SC as Montreal Impact arrive in Central Florida.
Mauro Biello's Impact travel south after playing out a 1-1 draw at Sporting Kansas City on June 10th with the Lions rested from MLS play since tying that incredibly controversial 0-0 draw with Chicago Fire on June 4th.
Performing a minor miracle to tie that game that was marred by the decision making of referee Ted Unkel, Rafael Ramos' 26th minute red card has since been rescinded by Major League Soccer's Independent Panel.
With Antonio Nocerino also seeing red that night, the Italian wasn't so lucky in seeing his overturned so Jason Kreis won't be able to call upon the former AC Milan midfielder for the game against Montreal Impact.
In MLS play, Orlando City SC have been getting back in the groove after a string of SIX games without a victory throughout June.
Earning a 2-0 victory over D.C. United on May 31st, the same fight, passion, hunger and determination seems to be flowing through the Lions' veins again, typified in our battling 0-0 draw against Fire and reminding everybody of the team's potential.
With the Impact fixture being our fourth consecutive MLS home game in a row, this Orlando City Stadium streak came exactly at the right time with road points usually proving a tough ask for Orlando City SC.
As for Mauro Biello's Impact, the Quebec side sat in ninth place (17 points) in the Eastern Conference following Gameweek 15 but arrive at Orlando City Stadium unbeaten in their last three league fixtures.
No longer able to call upon Didier Drogba of course, the Canadians still boasts a top quality strikeforce including the likes of Ignacio Piatti, Matteo Mancosu and Dominic Oduro who has hurt Orlando City SC multiple times in the past.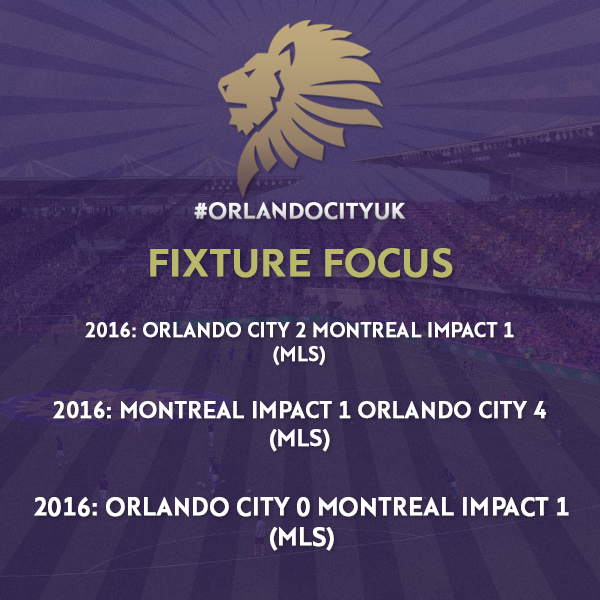 2015/17 head-to-head stats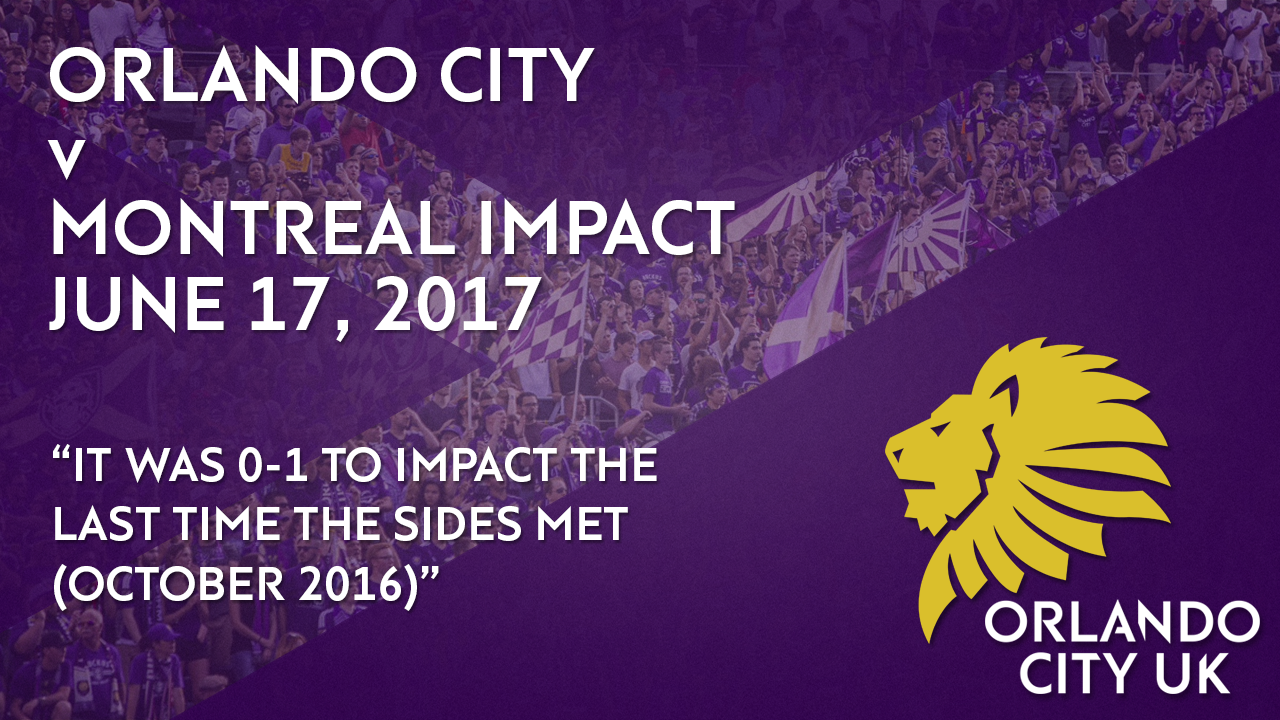 Speaking of Dominic Oduro, it was a single goal from the Ghanaian forward that inflicted a 0-1 defeat on Orlando City SC the last time the sides met at Camping World Stadium in October 2016.
With our 2016 MLS Cup Playoffs qualification hopes all but over heading into this fixture, Impact hammered the final nail into our coffin on an unbelievably sweltering day in Central Florida.
Looking for the world like an end-of-season fixture, Orlando City SC were a wounded animal on the day, playing like a side who knew they had failed to meet expectations over the course of a challenging campaign.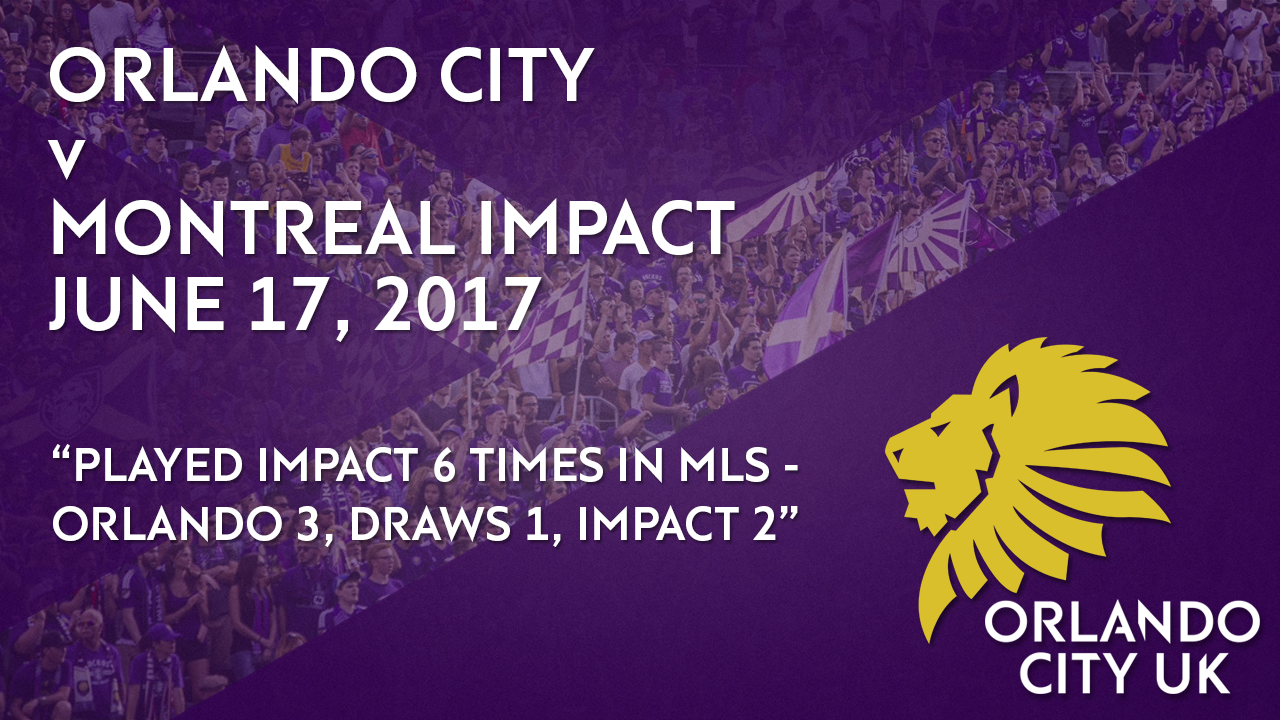 We always seem to get entertaining encounters whenever Orlando City SC face off with Montreal Impact and what's more, the Lions have the edge in this game series so far.
Winning THREE head-to-heads to Impact's TWO with a single draw being played out too, both sides appear evenly matched although Orlando City SC need to do what Impact managed last season and that's reaching the MLS Cup Playoffs.
Back in September 2016 however, Orlando City SC produced one of their best ever MLS performances so far to beat Impact 1-4 on their home field at Saputo Stadium.
Montreal Impact 1 Orlando City SC 4 – Highlights – September 7, 2016 (Credit: Major League Soccer)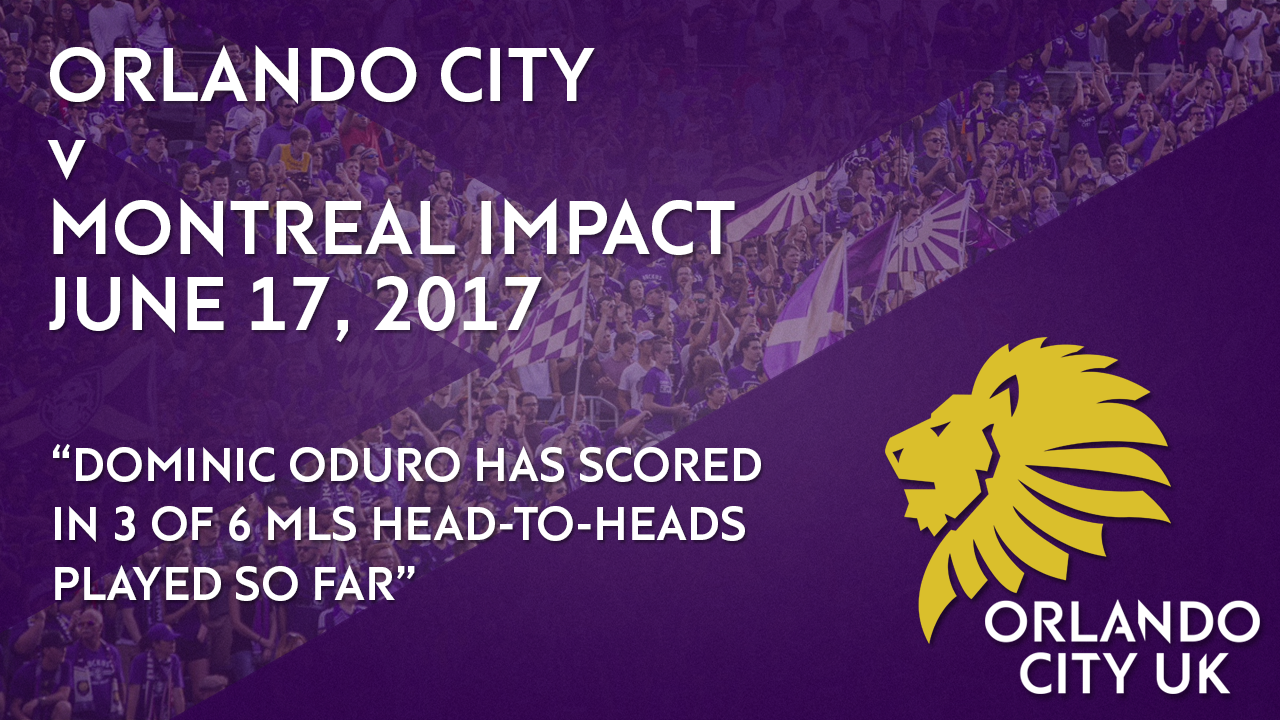 A Montreal Impact player since 2015, Dominic Oduro certainly has a knack for scoring goals against Orlando City SC.
Despite currently playing in just our third Major League Soccer campaign, the once-capped Ghana international has managed to score THREE goals against the Lions across two seasons.
Helping settle a 2-0 win over Orlando City SC in June 2015, a game that current Lions full back Donny Toia scored in for Impact, Dominic Oduro also scored in a 2-1 Lions win later that year in October.
Add in the 31-year-old's winner against Jason Kreis' side in October 2016 and the Montreal Impact number 7 is something of a mini nemesis for Orlando City SC.
Orlando City SC form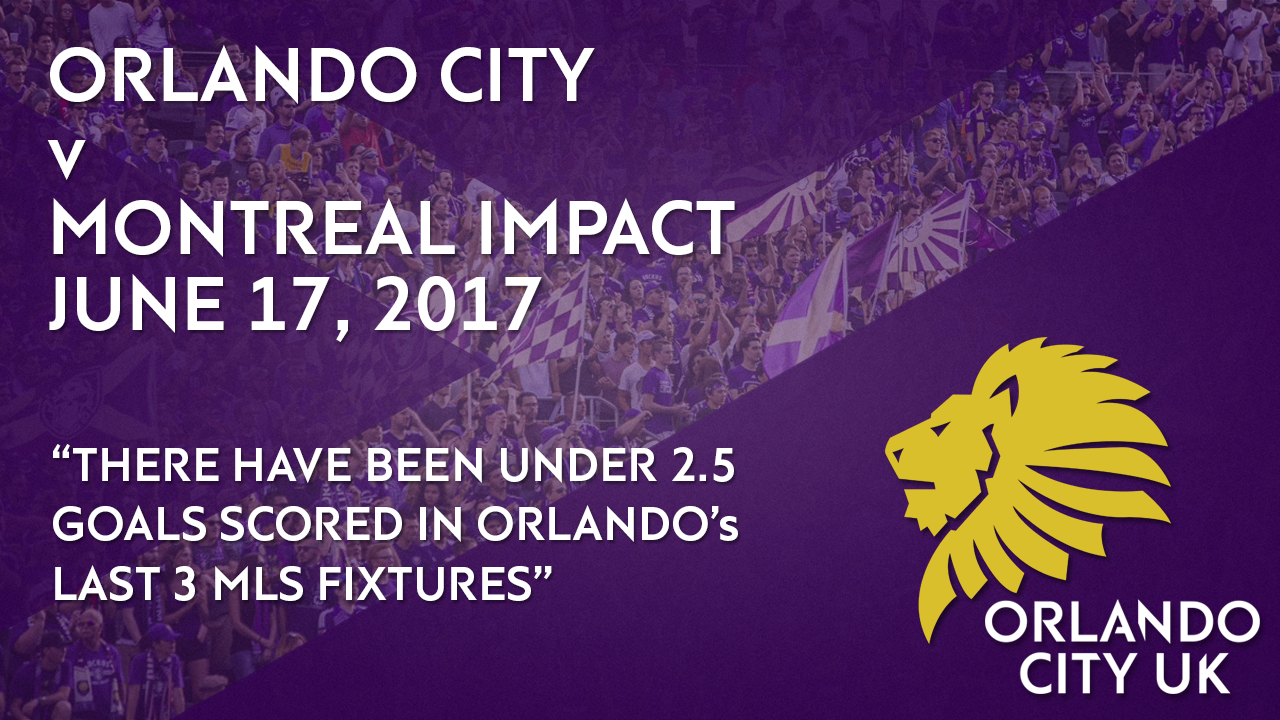 It's become all too aware that Orlando City SC are over reliant on Cyle Larin scoring goals lately.
Probably something we already knew anyway, we have witnessed UNDER 2.5 GOALS being scored in our last THREE MLS fixtures.
In fairness, Ted Unkel's refereeing made getting anything out of the Chicago Fire game a ridiculously tough ask but against Minnesota United (1-0) and D.C. United (2-0), Orlando City SC weren't at their free-flowing best.
Yet to blow away any side in Major League Soccer this term, it's true that we need more goals from the likes of Carlos Rivas, Giles Barnes and Matías Pérez García.
Orlando City SC 0 Chicago Fire 0 – Highlights – June 4, 2017 (Credit: Chicago Fire)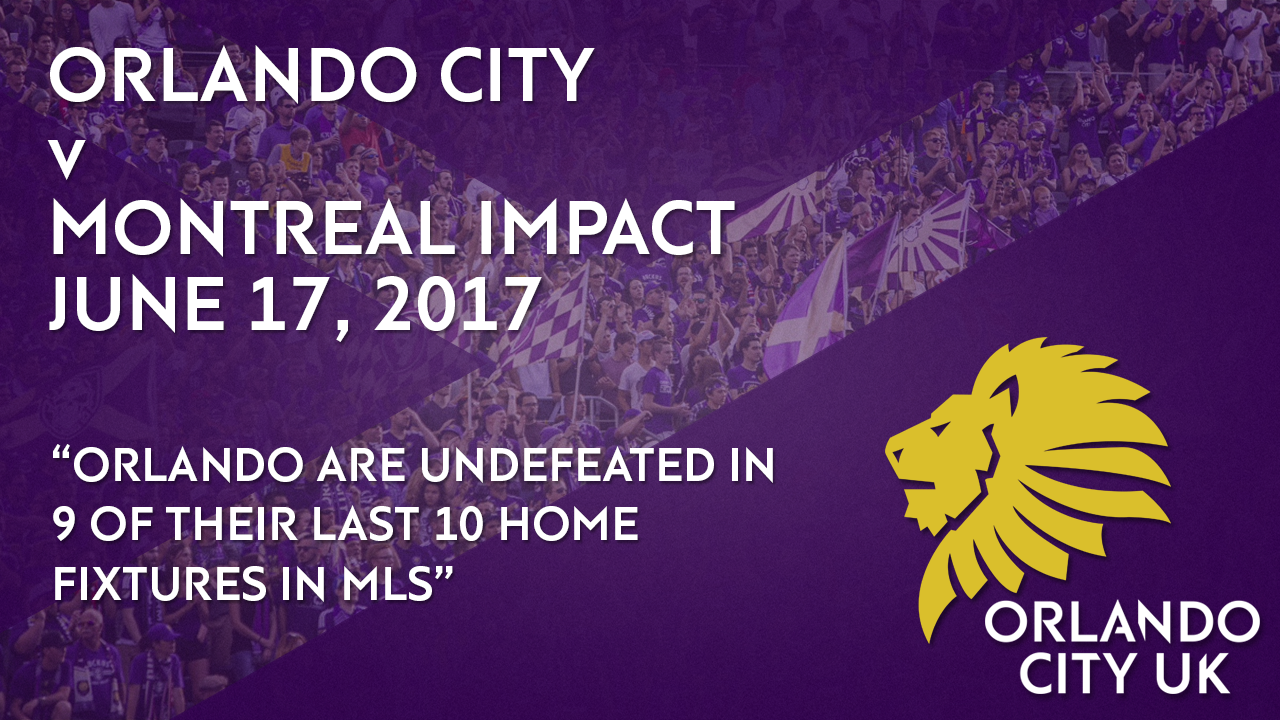 Despite experiencing a sticky period throughout May, Orlando City SC's home stats still make for incredibly impressive reading.
Unbeaten in NINE of our TEN MLS games at Orlando City Stadium so far, Sporting Kansas City (2-2), New York City FC (0-3) and Chicago Fire (0-0) are the only sides to have come away from Central Florida with points to show for their efforts so far.
Montreal Impact form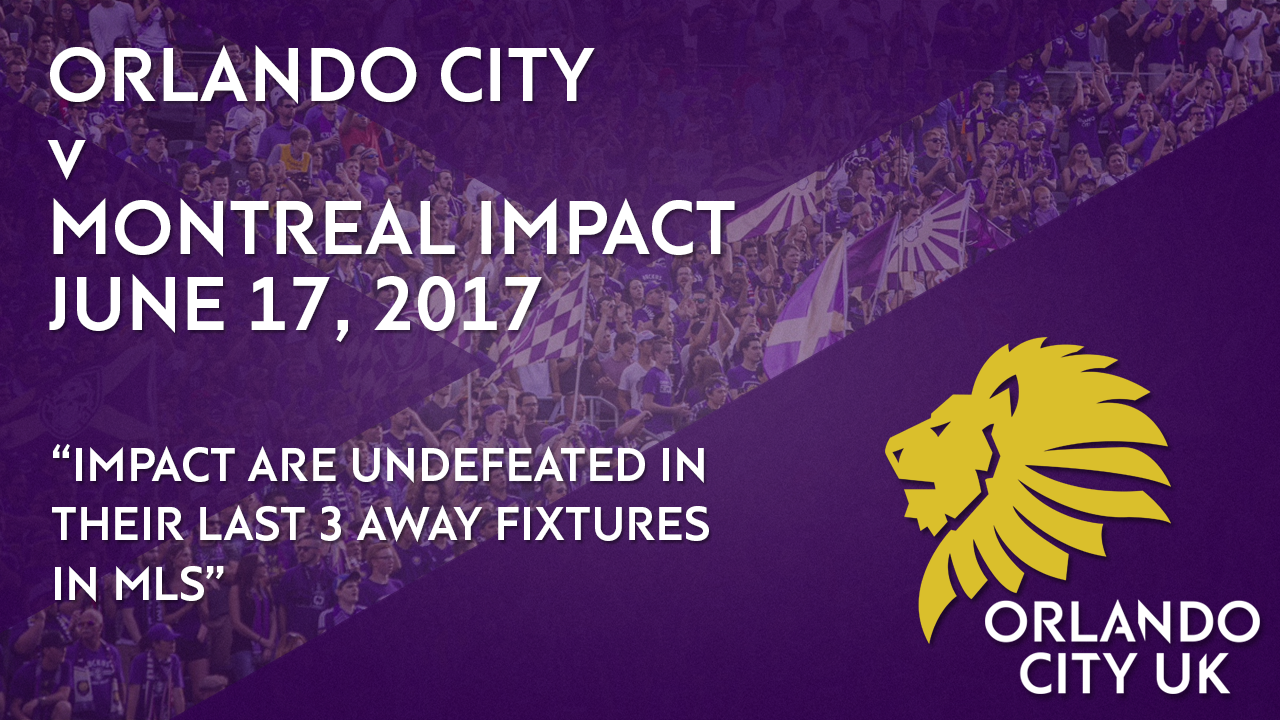 In fairness to Mauro Biello's Montreal Impact, they've performed well on the road lately.
Unbeaten in their last THREE away fixtures in MLS, this is evidence enough that Orlando City SC can't be taking anything for granted in this game.
Tying 1-1 with Sporting Kansas City last time out, Impact won 0-1 at a toothless D.C. United on May 6th after tying an incredibly watchable 3-3 draw at Philadelphia Union beforehand.
Sporting Kansas City 1 Montreal Impact 1 – Highlights – June 10, 2017 (Credit: Sporting Kansas City)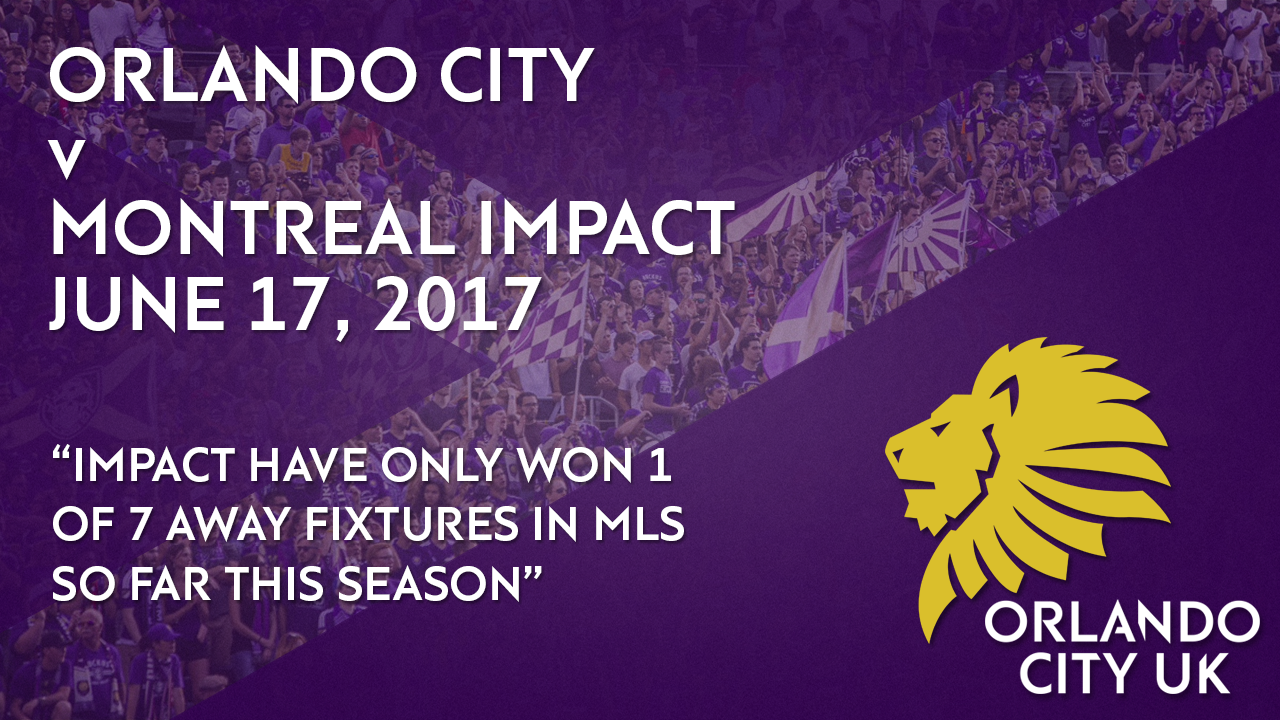 Despite grabbing their fair share of road points this term, the cold hard facts point to Montreal Impact only winning ONE away fixture so far.
With that win coming at D.C. United in early May, Orlando City SC have only managed a single road victory – at New York City FC on April 23rd.
While Orlando City SC will be considered favourites in this match-up, the game is likely to prove tight and in truth, Orlando City SC need a win to keep the pressure on Eastern Conference pacesetters Chicago Fire and Toronto FC.