With Orlando City SC supporters already knowing that Matías Pérez García's contract was coming to an end this June, the Argentine has now confirmed that he's moving on.
Reluctantly revealing the news via his Instagram account on Wednesday, the news has understandably got Orlando City SC Twitter in a frenzy.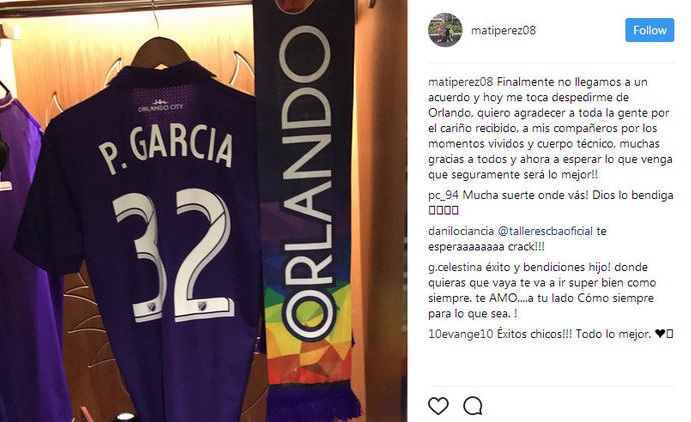 (Credit: @MatiPerez08)
Translated in English, Matías Pérez García's Instagram post read: "Finally we do not reach an agreement and today it's me saying goodbye to Orlando.
"I want to thank everyone for the love received, to my teammates for the moments and coaching staff, thank you very much to all and now expect whatever comes will surely be the best!!"
A much likeable character since arriving in Central Florida as part of a trade for Darwin Cerén back on MLS transfer deadline day in August 2016, the diminutive 32-year-old was firmly among Jason Kreis' first team plans.
Having made a total of 28 Major League Soccer appearances for Orlando City SC, Matías Pérez García only recently scored his first ever Lions goal.
Scoring the opening goal in Orlando City SC's 3-3 home draw with Montreal Impact earlier this month, the midfielder hasn't done enough to earn an extension on his existing deal that is up on June 30th.
Now leaving Orlando City Stadium in strange circumstances considering most contracts don't finish mid-season, Orlando City SC fans are wondering if the club have something up their sleeve.
While Matías Pérez García was anything but a regular goalscorer, the loss of an experienced attacking player mid season isn't ideal and fans will be dreaming of a talented replacement.
Matías Pérez García was on a guaranteed salary of $260,004 so Orlando City SC fans will now be wondering whether these wages can be put towards a top quality addition like FC Porto's Juan Fernando Quintero.
The Colombian international has been heavily linked with a Orlando City SC switch lately with his parent club now calling time on his Independiente Medellín loan spell.
But with Orlando City SC now wishing an unfortunate farewell to Matías Pérez García, here's what the Lions' Twittersphere is making of the developments…
That is a lot of salary and an intl spot… replacement coming?

— Logan Jergens (@LoganJergens) June 28, 2017
dumb move

— Fred L (@FLPreach) June 28, 2017
They better step up with some talented signings

— lmw (@lmw_337) June 28, 2017
Not good. Need to build our mid. Ramos may be a good fit as a RM.

— Fence Guy (@KnightGator710) June 28, 2017
Still agree that MPG for Darwin was a good deal, but the last chapter of that deal is about to be written. We'll see who OC uses MPG $ on.

— Mickey wants his say (@MickeysView) June 28, 2017
I personally believe they would not have dropped MPG without having something else in the works. Quintero seems more likely now

— Parramore Pundits (@ParPundits) June 28, 2017
Letting MPG walk signifies something is in the works in the attack.. Not necessarily Quintero (theres a lot of crap flying) but someone

— Chris (@OrlandoCountySC) June 28, 2017
MPG is a nice piece for any team! Not maybe as a the main threat, but a complimentary piece definitely! works hard, technically sound!

— Big Deal (@BazTastic77) June 28, 2017
Don't think MPG is a huge loss, but Orlando City has those two big, big needs to fill going fwd.

— Paul Tenorio (@PaulTenorio) June 28, 2017
Dude gave it his all every game. We will miss his effort and tenacity. Really wish @OrlandoCitySC could have figured something out. https://t.co/cen9GuhXGp

— Evan Dupont (@ellisjuan350) June 28, 2017
Glad he's gone out with a goal. Squad needs an overhaul though to stay in a playoff spot… can't be sentimental about it

— Andrew (@soclandrew) June 28, 2017
Comment below or tweet us at @Orlando_CityUK to let us know!