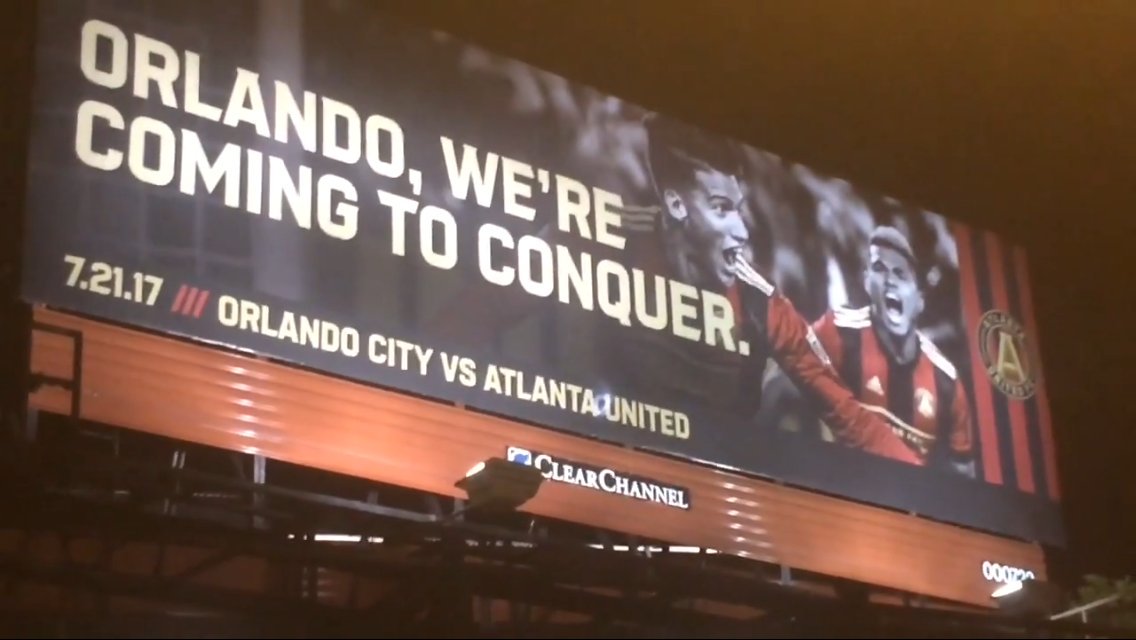 (Credit: Orlando Sentinel)
In case you'd been living on Mars, there's the small matter of the first ever Orlando City SC versus Atlanta United clash on Friday.
Unofficially billed the new MLS Derby of the South, a ballsy billboard in downtown Orlando has got everybody talking right now.
Sitting deep in Lions territory on the corner of Washington Street and Garland Avenue, the billboard reads 'Orlando, we're coming to conquer'.
Trash talk right on our doorstep? Hmm.
In a move that has clearly been made to pour more fuel on the flames of this blossoming rivalry, we can't wait to watch how this game series unfolds on the pitch.
The billboard unveiling also comes hot on the heels of a provocative tweet from Atlanta United's British president Darren Eales too.
Pitch side scoreboard @MBStadium appears to be working ?#UniteAndConquer pic.twitter.com/AIxxKwmrBw

— Darren Eales (@DEalesATLUTD) 13 July 2017
Soon to move into their Mercedes-Benz Stadium home in 2018, Eales' side recently tested their new electronic scoreboards with an Atlanta United 6 Orlando City SC 0 scoreline programmed in.
With Orlando City SC and Atlanta United supporters clashing on social media since The Five Stripes entered Major League Soccer this year, let's hope the real talking is done on the pitch… and not on a billboard!
Here's what the Orlando City SC Twittersphere is making of it all.
When OC wins they will never outlive this.i think TBR and NYC have taken a back sit in the pantheon of OC villains.

— David Valentin ?? (@dvorlando) July 19, 2017
Somewhere on I-75 near the Villages there is a billboard telling Orlando that Atlanta is coming. GUARANTEE IT

— Mickey wants his say (@MickeysView) July 18, 2017
I say we let the match be won on the pitch but I really hope this players', coaches, FO are aware this

— anakenn (@anakenn) July 18, 2017
Oops didn't see the link. This leaves a sour taste in my mouth but this is what rivals are all about. This is gonna be fun! #OCSC

— Brian Poston (@brianposton) July 19, 2017
How many cans of spray paint did u bring?

— Franklin Benjamin (@PoloKnight1) July 19, 2017
I don't know if I'm mad or glad. I think it's tasteless, but I love stuff like this for rivalries.

— Chad R (@chadrucks1976) July 19, 2017
That's a lot of money to spend on banter.

— Greg in Orlando (@GregInORL) July 18, 2017
Wait till they lose the game and how much stick they'll get for it?

— Zach (@cityzenforlife) July 19, 2017
Good banter to be fair. As much as I hate to admit it lol

— Jhamie Chin (@jhamieci) July 19, 2017
I'll be absolutely livid if we don't set up a billboard in downtown Atlanta before we visit next week

— Eduardinho???? (@ocnarf6214) July 19, 2017
How to watch Orlando City SC vs Atlanta United
With only ONE point separating both sides in the Eastern Conference following Gameweek 19, this game cannot be missed!
You can watch Orlando City SC versus Atlanta United LIVE on Sky Sports Main Event from 00:05 (UK time) late on Friday evening.
We'll also be running one of our live play-by-play blogs on our @Orlando_CityUK Twitter account too.
We hope you can join us!