It's the one we've all been waiting folks! The first ever Major League Soccer meeting between Orlando City SC and Atlanta United is nearly upon us.
A huge game anyway, the fixture has now taken on even greater significance with only just ONE point separating both sides in the Eastern Conference following Gameweek 19.
Despite both teams not facing each other as yet, there is already ill-feeling between both sides' supporters.
Geographically, Gerardo Martino's Atlanta United are the closest MLS franchise to Orlando City SC with just 440 miles separating Orlando City Stadium from Bobby Dodd Stadium in neighbouring Georgia via I-75.
While the story of this game series is yet to unfold on the pitch, Orlando City SC supporters have longed for a true MLS rival and a team more befitting than fellow 2015 entrants New York City FC.
Not only that but Atlanta United are the new kids on the block, having already made some enviable inaugural season additions like Miguel Almirón, Josef Martínez and Héctor Villalba among others.
Currently experiencing the sheer excitement and furore of Major League Soccer arriving in one of America's biggest cities, there is an undeniable feel-good factor and thirst for soccer across the state border.
For the coaching staff, first team and supporters alike, it's all the more important for Orlando City SC to stamp their authority in this game series.
With the rest of Major League Soccer keeping a close eye on this new-fangled rivalry, it's up to our men in purple to underline our status as the true soccer capital of the south!
That said, Orlando City SC face the unenviable task of having to cope without goalscoring talisman Cyle Larin.
After all, the 22-year-old has been called up to the Canadian national side for the 2017 CONCACAF Gold Cup knockout stage.
Head-to-head stats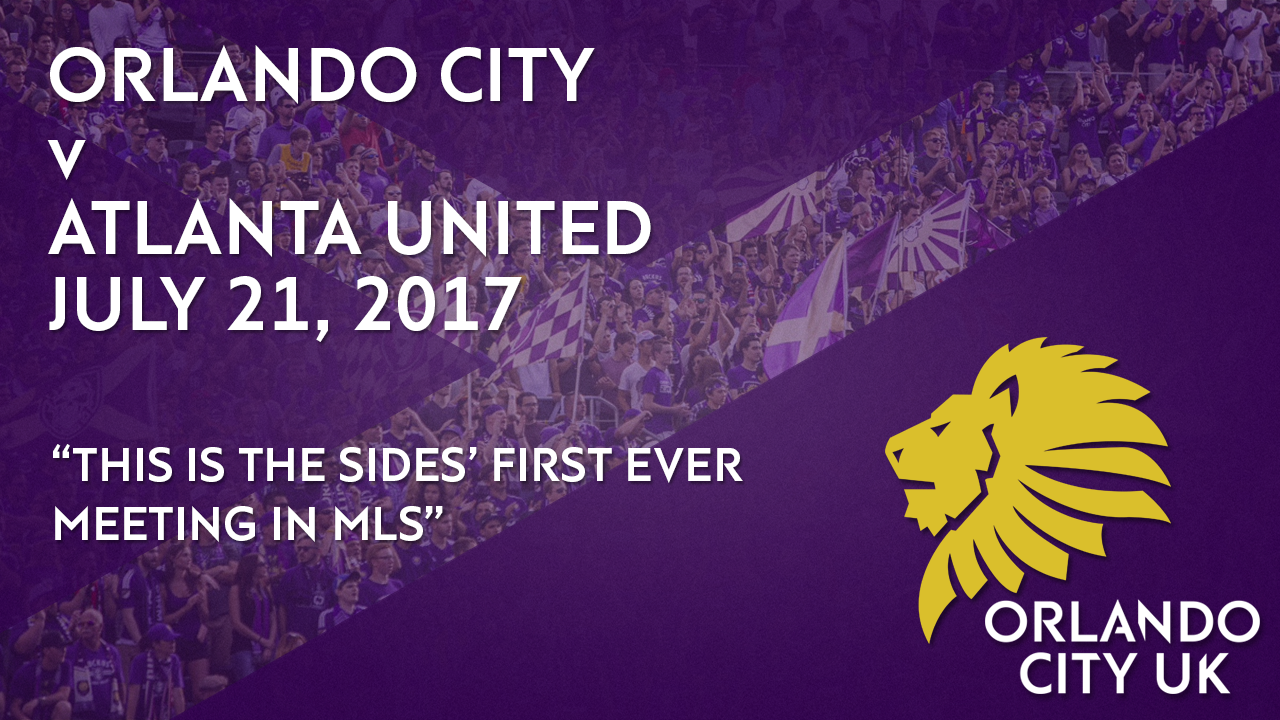 We've waited a long time for it but it's almost here – the first ever MLS meeting between Orlando City SC and Atlanta United.
As the classic British saying goes, you wait ages for one bus to come along and two come at once!
That's very much the case for Orlando City SC with Jason Kreis' Lions making their first ever trip to Atlanta United's Bobby Dodd Stadium hot on the heels of this game on Saturday July 29th!
Orlando City SC form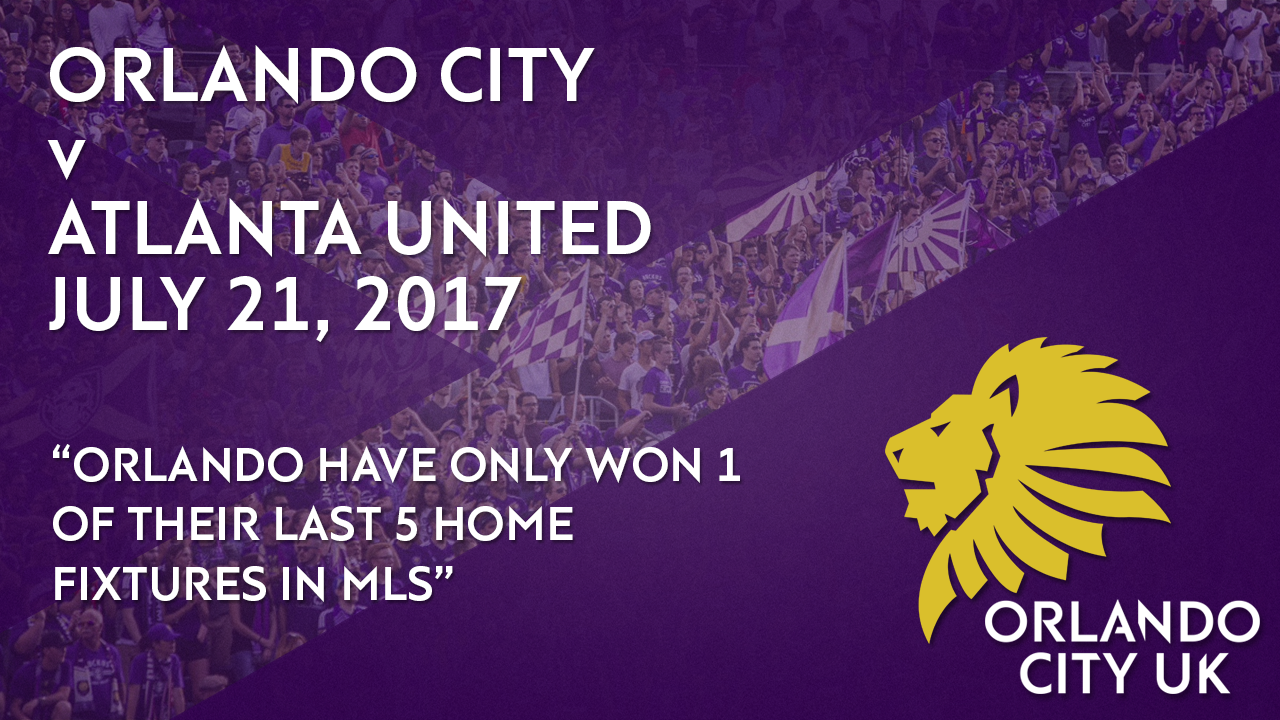 With almost two thirds of the 2017 MLS season complete, it's safe to say Orlando City SC's first third has been much more enjoyable than the second.
Starting the season superbly with six victories from our first seven games, City now only have TWO wins in our last THIRTEEN MLS fixtures.
Orlando City Stadium began a fortress but it hasn't been the case lately with the Lions picking up ONE win from their last FIVE home fixtures – a 2-0 win over D.C. United.
While Jason Kreis recently criticised the quality of refereeing at Orlando City Stadium following the 1-3 loss to Toronto FC, this shouldn't be used as an excuse for our defects of late.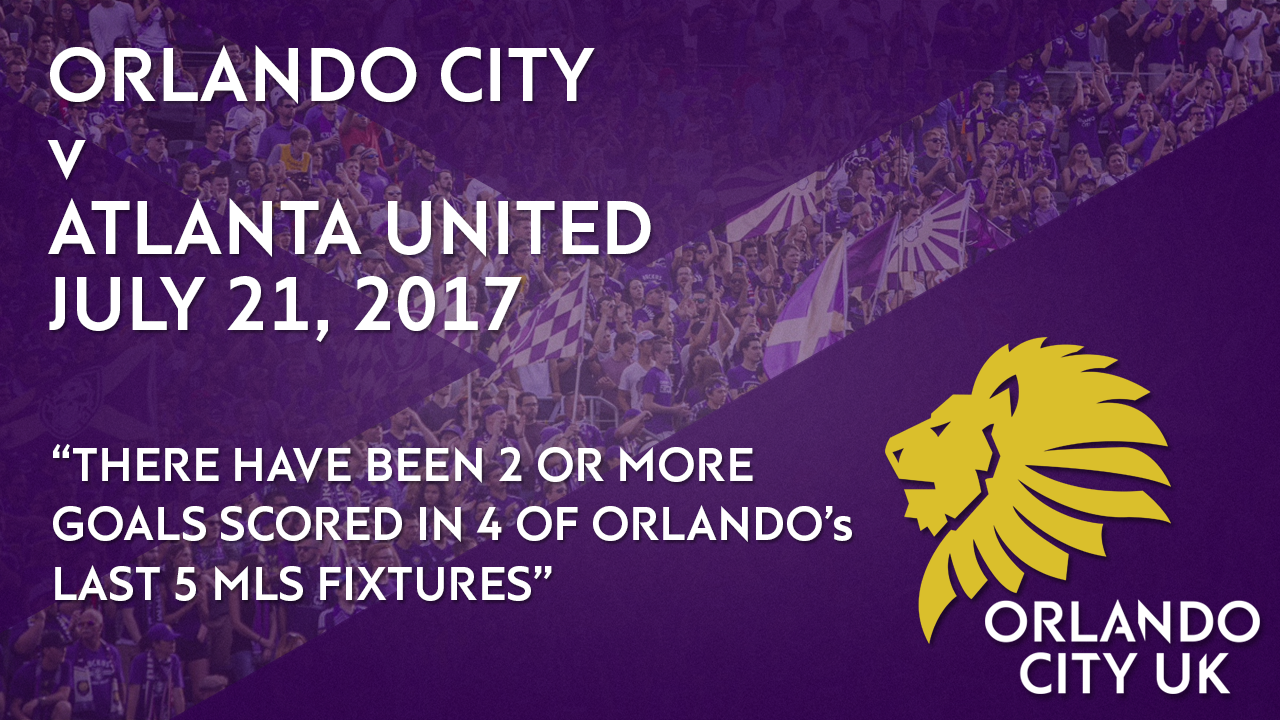 The start of the season saw Orlando City SC uncharacteristically involved in some tight low scoring encounters where we were coming out on top.
Now however, old habits seem to have crept in with Orlando City SC tying 3-3 with Montreal Impact, losing 4-0 to Chicago Fire and going down 1-3 to Toronto FC.
Conceding far more goals lately, there have been TWO OR MORE goals scored in FOUR of Orlando City SC's last FIVE MLS fixtures.
Orlando City SC 1 Toronto FC 3 – Highlights – July 5, 2017 (Credit: Toronto FC)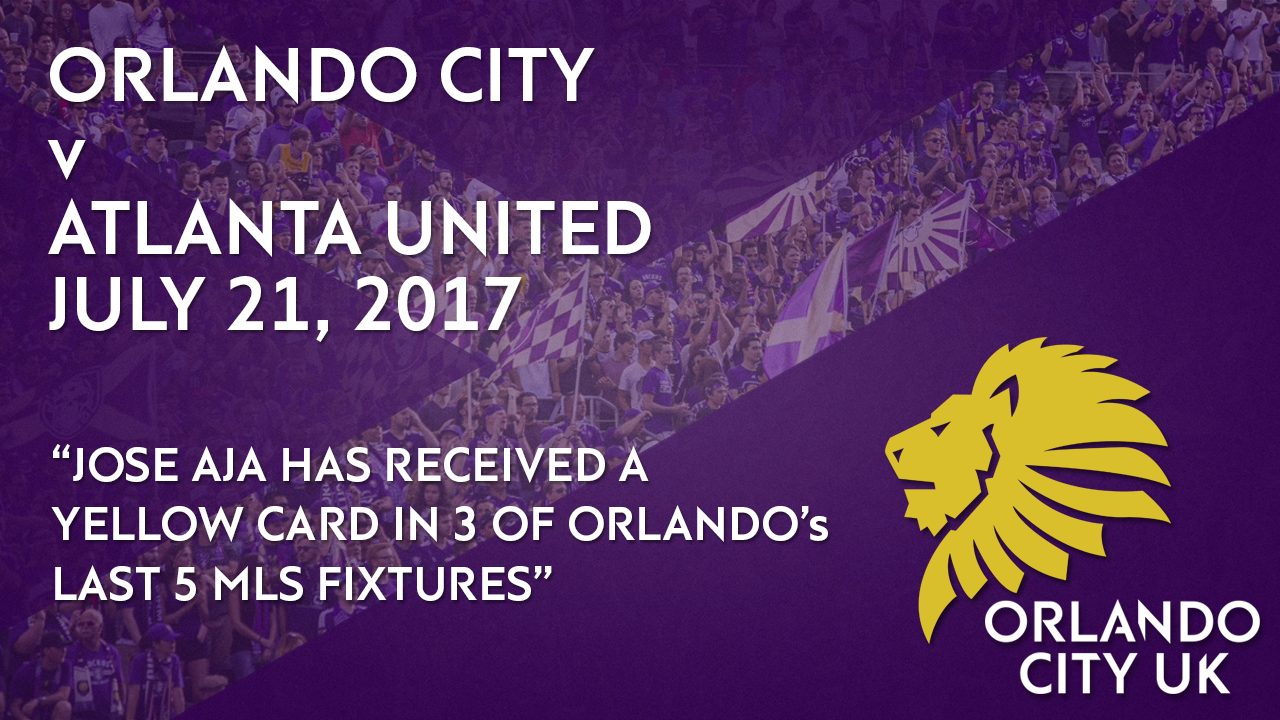 When you look back on Orlando City SC's last FIVE fixtures in MLS, Uruguayan defender José Aja has picked up a yellow card in THREE of those games.
Booked in games against Montreal Impact, Real Salt Lake and Toronto FC, Orlando City SC can't afford to be walking a tightrope with PRO Referees right now.
Slipping beneath Atlanta United in the Eastern Conference standings lately, it's imperative we maintain our discipline in our bid to make the 2017 MLS Cup Playoffs.
Atlanta United form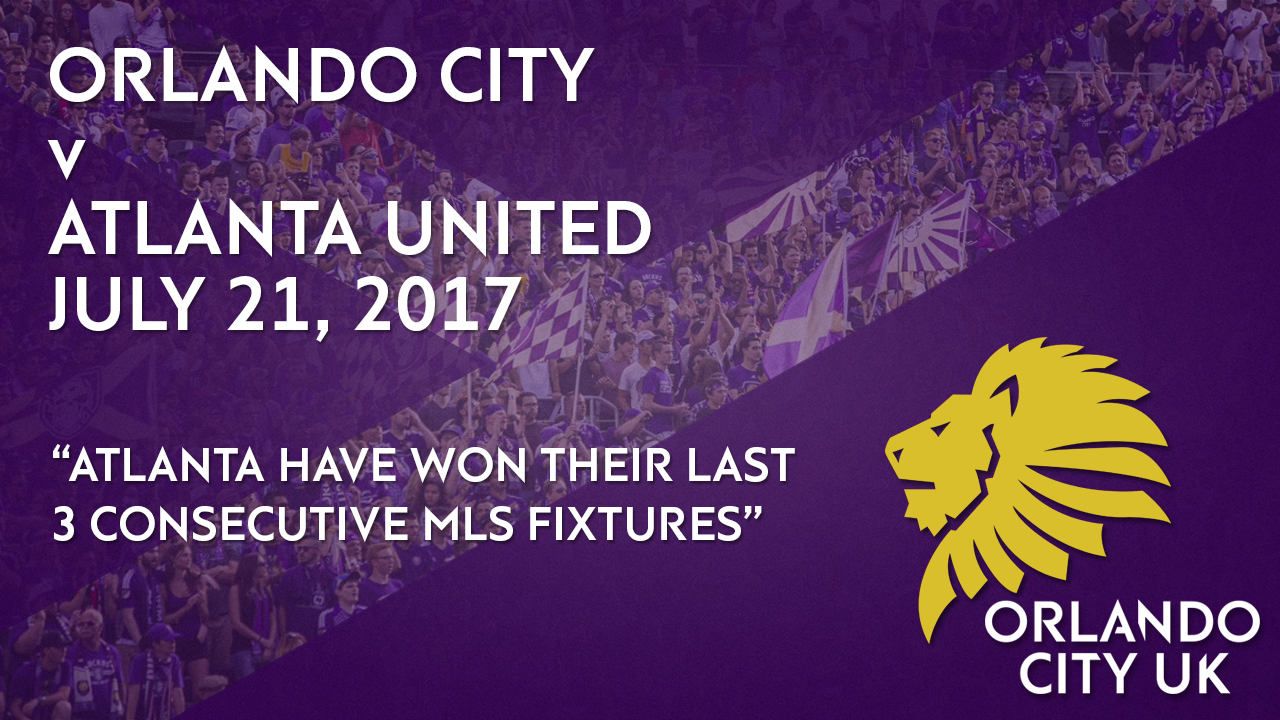 Although we don't like hearing it, the fact is that Atlanta United have stolen a march on Orlando City SC recently.
Sitting ONE point better off than the Lions in fourth place in the East, Gerardo Martino's side have been perfect in their last THREE consecutive MLS fixtures.
Beating Colorado Rapids 1-0, Columbus Crew 0-2 and most recently San Jose Earthquakes 4-2, Atlanta United are a team in sync right now.
Atlanta United 4 San Jose Earthquakes 2 – Highlights – July 4, 2017 (Credit: Atlanta United FC)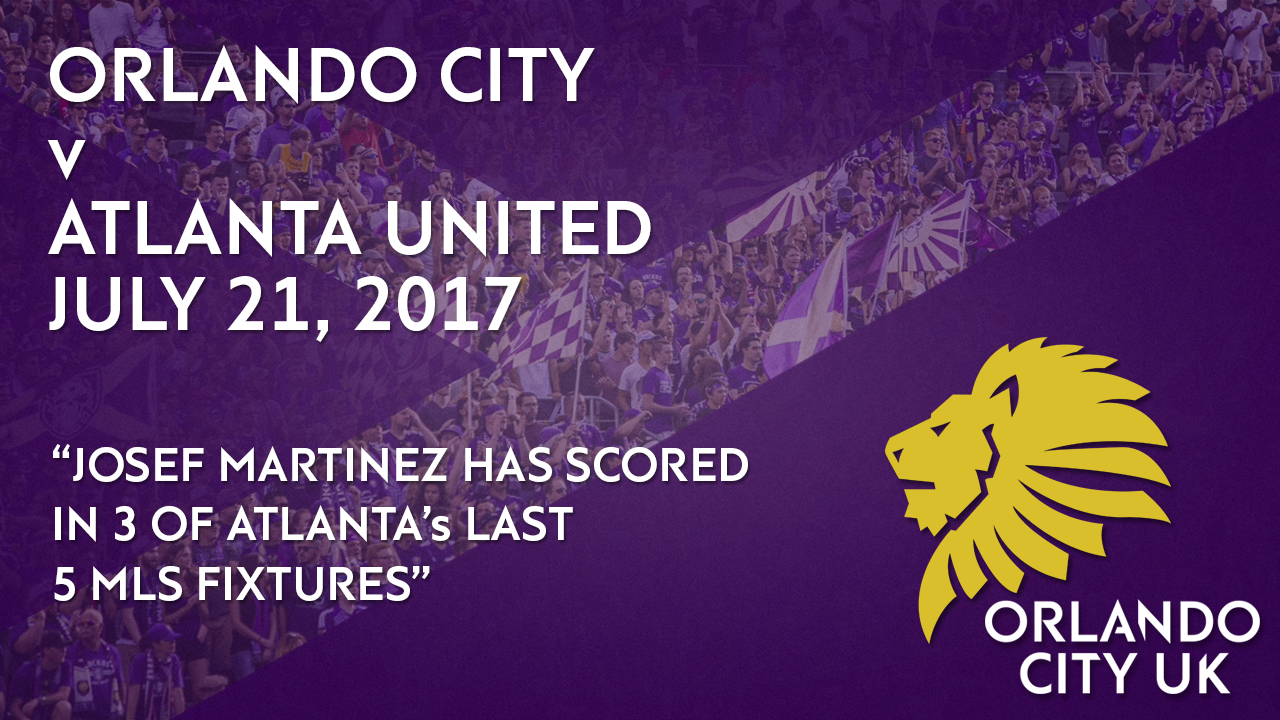 Although Miguel Almirón is the jewel in Atlanta United's crown, you can't overlook the contribution that Josef Martínez has made this season.
Signed permanently from Torino back in March, the Venezuela international striker has NINE goals to his name so far this season.
Scoring in THREE of The Five Stripes' last FIVE MLS fixtures, he is the danger man but then there's Almirón and Héctor Villalba to worry about too!
Atlanta United 1 Colorado Rapids 0 – Highlights – June 24, 2017 (Credit: Atlanta United FC)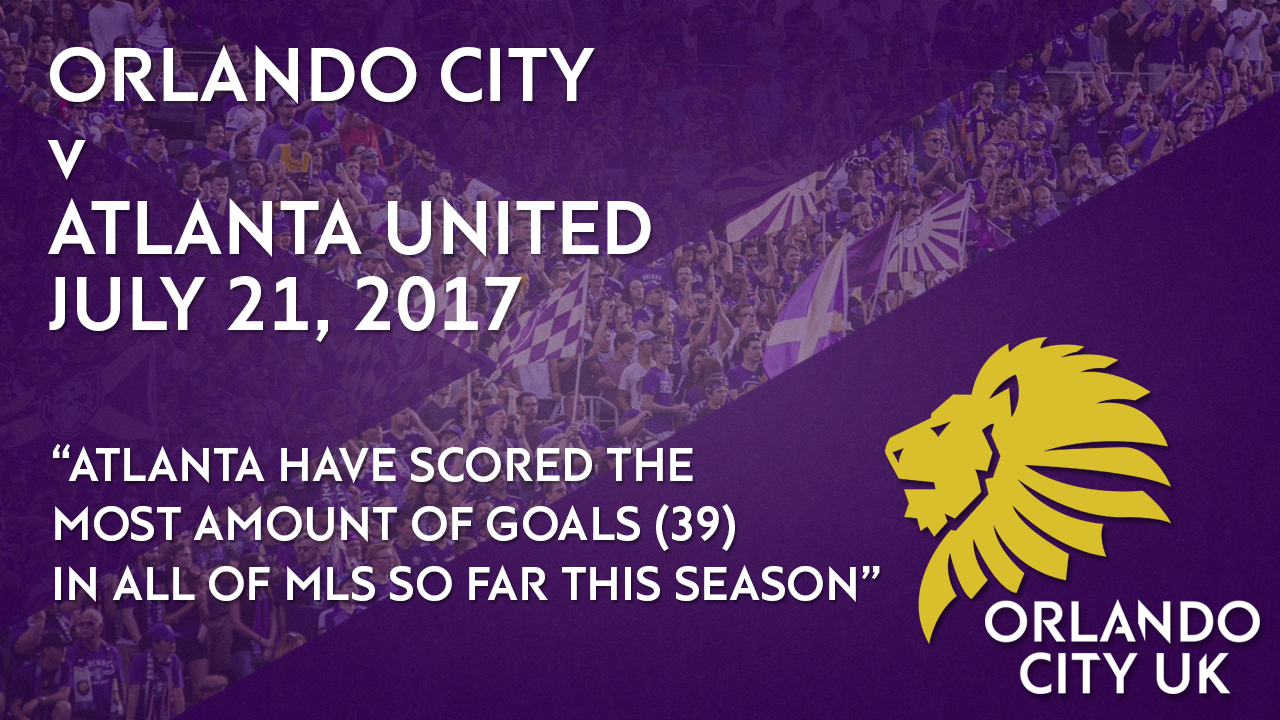 Speaking of that potent frontline, the headline stat is the fact that Atlanta United have scored the MOST amount of goals (39) in Major League Soccer following Gameweek 19.
With Chicago Fire (37) and New York City FC (36) scoring the second and third most across the entire league, Atlanta United are especially dangerous, both home or away.
Gerardo Martino's side share the goals around too with Josef Martínez on nine MLS goals, Miguel Almirón on eight, Héctor Villalba on eight and Julian Gressel on three.