Embed from Getty Images

As I'm sure most of you are aware now, Major League Soccer requests that clubs release protected player lists at the end of each campaign and Orlando City SC did just that yesterday.
With the 2017 MLS Expansion Draft set to take place on December 12th with new boys Los Angeles FC looking to build their inaugural 2018 roster, they won't be able to get their hands on these 11 Lions stars.
The 11 players on Orlando City SC's 2017 protected list are Joe Bendik, José Aja, Scott Sutter, Jonathan Spector, Donny Toia, Will Johnson, Cristian Higuita, Yoshimar Yotún, Dom Dwyer, Cyle Larin and Carlos Rivas.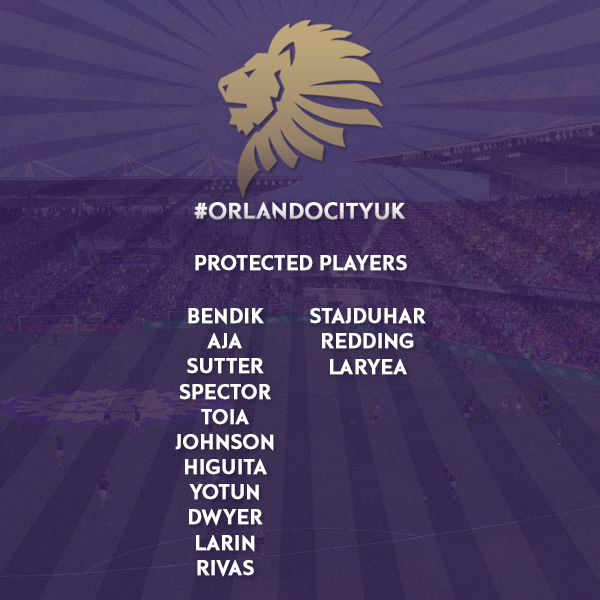 Automatically protected players are Mason Stajduhar, Tommy Redding and Richie Laryea who finally made his breakthrough into the Lions' first team in 2017.
That leaves the likes of Giles Barnes, Servando Carrasco, Pierre da Silva and the long serving Rafael Ramos available for selection in the draft and as you'd expect, City fans haven't been shy in airing their views on Twitter.
For the other 12 Orlando City SC players unprotected in the 2017 MLS Expansion Draft, click here.
Orlando City UK hand-selected some of the best tweets following yesterday's club announcement.
Not protecting Pierre Da Silva seems like an unnecessary risk @Orlando_CityUK https://t.co/fKNv7EpP7l

— david manock (@dmanock) December 11, 2017
Writing is on the wall…Carrasco to LAFC with Morgan to follow. SAD!

— 85AGC (@85AGC) December 10, 2017
Johnson over Da Silva?

— steve19 (@steveflarmature) December 10, 2017
Why protect Aja? He doesn't protect our back line…

— Brian (@ORLtragic) December 10, 2017
Seriously. Leaving DaSilva and Ramos unprotected is a bad idea. Leave Toia out please and Aja.

— Hector Manley (@hectormanley) December 10, 2017
I'm starting to think Kreis doesn't watch the same game as us fans do. What does he see in Jose Aja? In my eyes he's trying too hard to be good on the ball, inferior to Tommy Redding, and wasting an international spot.

— Cal Friedman (@friedman_cal) December 11, 2017
Good news is LAFC only get 5 picks in entire draft…just them to value 5 more players higher that @PierreDasilva11

— Logan Jergens (@LoganJergens) December 10, 2017
@OrlandoCitySC leaving Da Silva unprotected has genuinely annoyed me, why would you risk losing such a young talent??😡 Could be huge for us in the coming years … 🤔 @Orlando_CityUK

— Nathan Green (@NathanGreen__) December 11, 2017
What are YOU making of Orlando City SC's protected list ahead of 2018?
Comment below or tweet us at @Orlando_CityUK to let us know!