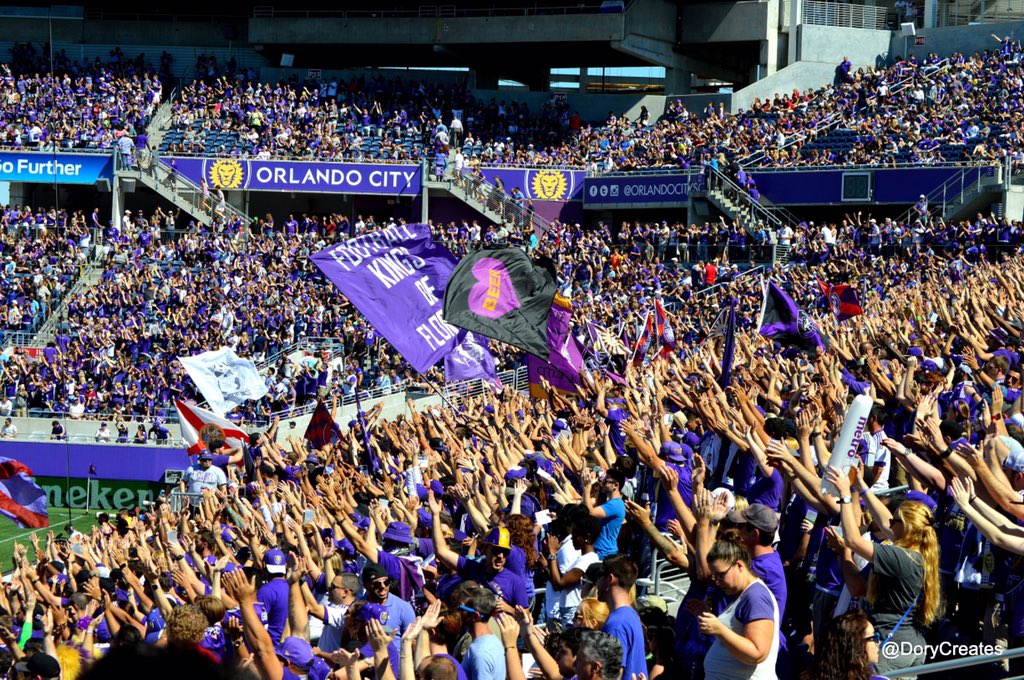 (Credit: @DoryCreates)
Texan beginnings
Bursting into new life as Major League Soccer's 21st franchise when officially received by Don Garber back in November 2013, Orlando City SC's origins stretch back three years prior to that year in Austin, Texas.
Existing as the Austin Aztex organisation when chairman Phil Rawlins seized USL Pro rights back in 2010, the Englishman's immediate focus revolved around relocating the club to Central Florida.
Domination of USL Pro – 2010-2014
Impressively achieving instant success within USL Pro not only on the field but off it as well with leading attendance figures for the first of three seasons spent in the division while playing at the Citrus Bowl, Orlando City SC's first season in existence ended up in ultimate glory.
Winning a famous double in not only lifting the Commissioner's Cup as the glorious table topping team, Orlando City SC also won the USL Pro Championship courtesy of a play-off final victory over the Harrisburg City Islanders on penalties (3-2).
For the club's second season in existence, the glorious story showed no signs of losing momentum with Adrian Heath's Lions side becoming champions of the regular season once again.
Winning the USL Pro Playoffs via an unforgettable 7-4 victory over Charlotte Eagles in 2013 before winning the regular season yet again in 2014, the club's motto 'Defy Expectations' simply couldn't hold more truth.
Major League Soccer – 2015-
Entering Major League Soccer alongside fellow newcomers New York City FC in time for the 2015 campaign, Adrian Heath's side entered the top level of North American soccer with a winning mentality and a hunger to stamp their authority in an altogether new star-studded landscape.
And what better way to go about this than by signing a former FIFA World Player of the Year in the form of Brazilian superstar Kaká who jetted in from AC Milan to sign a multi-million dollar contract as Orlando City SC's first ever Designated Player in July 2014.
Defying expectations yet again when an incredible 62,510 Lions fans Filled The Bowl for the club's first ever MLS game against expansion rivals NYCFC in March 2015, a last gasp Kaká free-kick salvaged a 1-1 draw in a fixture which represented the culmination of an incredible journey that started over 950 miles away in Austin, Texas.
A bright future ahead!
Top level soccer in The City Beautiful was born with an incredibly bright future laying in wait.
After all, Orlando City SC made the short pilgrimage from Camping World Stadium along Church Street to grace their brand new purpose-built Orlando City Stadium home ahead of the 2017 Major League Soccer campaign kicking off.
But even before that footnote was etched into the history of Orlando City SC, two more clubs were welcomed into the purple fraternity with open arms in 2016.
Both Orlando City B and Orlando Pride were established in 2015 with these new clubs embarking on their own inaugural campaigns in both USL and NWSL, only serving to underline Orlando's status as the true Soccer Capital of the South!
Despite saying goodbye to one of Orlando's favourite sons in Adrian Heath in July 2016, we've still only just flicked through the first few chapters in this inspiring tale, itching to find out where his successor Jason Kreis can take us!
Vamos Orlando!