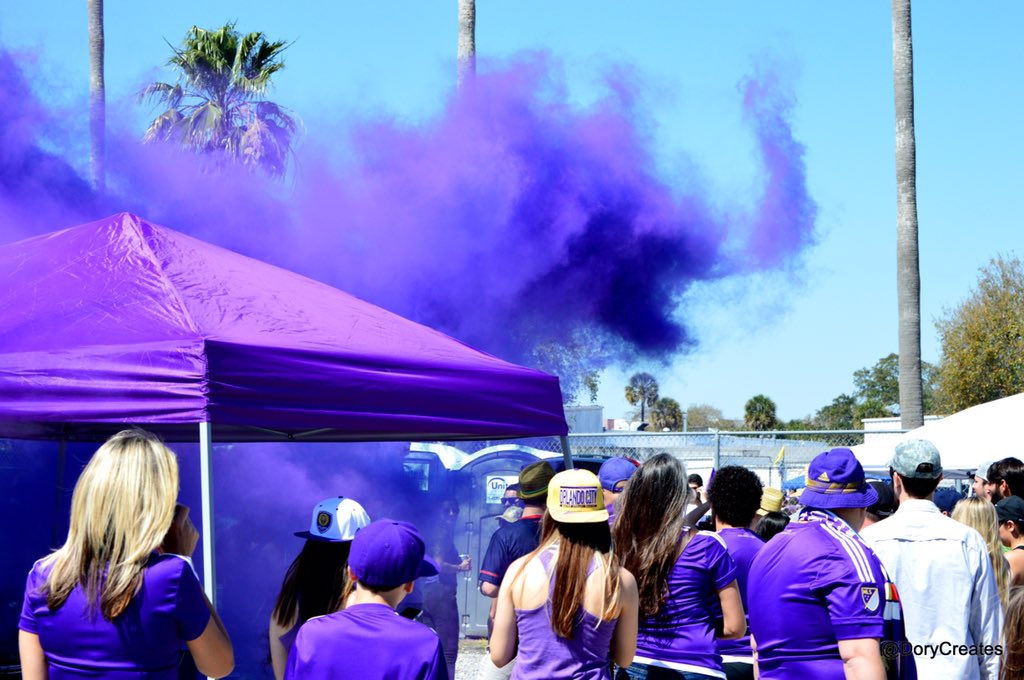 (Credit: @DoryCreates)
Orlando Pride are the affiliate women's team belonging to Orlando City SC who completed their inaugural NWSL campaign in 2016.
With club chairman Phil Rawlins announcing the establishment of Orlando Pride at Lake Eola Park in October 2015, the team became the tenth franchise to be added to the National Women's Soccer League.
Announcing former Australia and United States women's head coach Tom Sermanni as manager that same month, Orlando Pride played their home fixtures at Camping World Stadium in 2016 but joined Orlando City SC at Orlando City Stadium in 2017.
Breaking the NWSL attendance record for the club's first ever competitive home game with 23,403 fans applauding a 3-1 victory over Houston Dash in April 2015, Orlando Pride are setting the standard in the women's game.
With Orlando Pride having also pulled off the marquee signing of USWNT superstar Alex Morgan prior to their inaugural campaign kicking off, the team have already assembled a plethora of fine talents with the likes of Ashlyn Harris, Ali Krieger and the greatest ever women's footballer Marta, making up a star-studded roster.
Coaching Staff
Tom Sermanni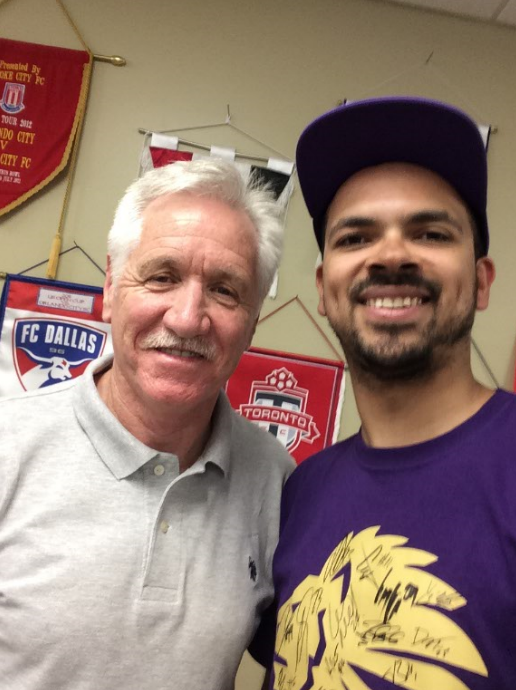 Role: Manager
Nationality: Scotland
Hometown: Glasgow
Date of Birth: 01/07/1954
Height:
Clubs Managed: Canberra Croatia / Metros, Australian Schoolboys, Australian Institute of Sport (Men's), Sydney Olympic FC, Australia Women, Sanfrecce Hiroshima, Canberra Cosmos, New York Power, Sarawak, United States Women, Canada Women
Twitter: @TomSermanni
Khano Smith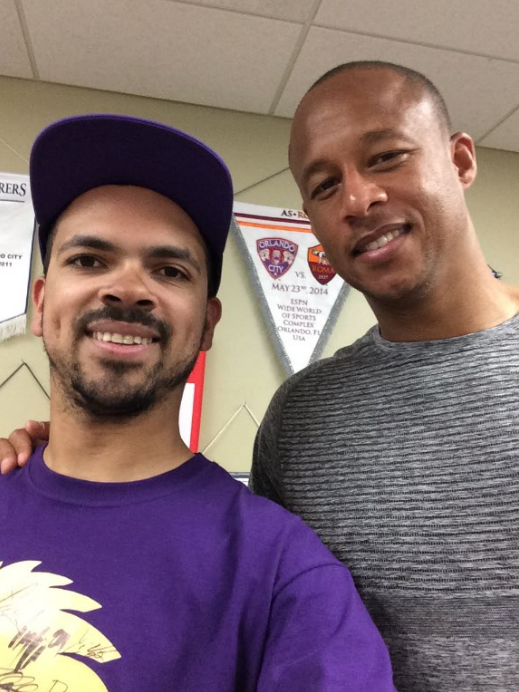 Role: Assistant Coach
Nationality: Bermuda
Hometown: Paget
Date of Birth: 10/01/1981
Height: 6 ft 3 in
Twitter: @KhanoSmith18
Marcos Machado


Role: Goalkeeping Coach
Nationality: Brazil
Hometown: Recife
Date of Birth: 08/07/1957
Height: 5 ft 11 in
First Team
3. Toni Pressley


*On Loan To Canberra United*
Position(s): Defender
Nationality: United States
Hometown: Melbourne, Florida
Date of Birth: 19/02/1990
Height: 5 ft 11 in
Former Clubs: Boston Renegades, Washington Freedom, Western New York Flash (WPSL-E), Ryazan VDV, Washington Spirit, Houston Dash
Twitter: @Toni_Deion
4. Jamia Fields


Position(s): Striker, Defender
Nationality: United States
Hometown: Alta Loma, California
Date of Birth: 24/09/1993
Height: 5 ft 5 in
Former Clubs: Western New York Flash
Twitter: @JamiaFields4
6. Chioma Ubogagu


Position(s): Striker
Nationality: United States
Hometown: London, (England)
Date of Birth: 10/09/1992
Height: 5 ft 7 in
Former Clubs: Stanford Cardinal, Arsenal, Houston Dash
Twitter: @ChiAlreadyKnow
7. Steph Catley


*On Loan To Melbourne City*
Position(s): Defender
Nationality: Australia
Hometown: Melbourne
Date of Birth: 26/01/1994
Height: 5 ft 7 in
Former Clubs: Melbourne Victory, Portland Thorns, Melbourne City
Twitter: @StephCatley
8. Danica Evans


Position(s): Striker
Nationality: United States
Hometown: Lakewood, Colorado
Date of Birth: 02/06/1995
Height: 5 ft 6 in
Former Clubs: University of Colorado, University of Portland
Twitter: @DanicaEvans10
9. Camila


Position(s): Defender, Midfielder
Nationality: Brazil
Hometown: Rio Grande do Sul
Date of Birth: 10/10/1994
Height: 5 ft 3 in
Former Clubs: Kindermann, Ferroviária, Houston Dash, Tiradentes
Twitter: @Camilinha94MP
10. Marta


Position(s): Striker
Nationality: Brazil
Hometown: Dois Riachos
Date of Birth: 19/02/1986
Height: 5 ft 4 in
Former Clubs: Vasco da Gama, Santa Cruz, Umeå IK, Los Angeles Sol, FC Gold Pride, Santos, Western New York Flash, Tyresö FF, FC Rosengård
Instagram: @MartaVSilva10
11. Ali Krieger


*Vice Captain*
Position(s): Defender
Nationality: United States
Hometown: Dumfries, Virginia
Date of Birth: 28/07/1984
Height: 5 ft 6 in
Former Clubs: Northern Virginia Majestics, Washington Freedom, 1. FFC Frankfurt, Washington Spirit, Tyresö FF (Loan)
Twitter: @AliKrieger
12. Kristen Edmonds
(Credit: @Kris10Edmonds)
Position(s): Midfielder, Defender
Nationality: United States
Hometown: Metuchen, New Jersey
Date of Birth: 22/05/1987
Height: 5 ft 5 in
Former Clubs: Stjarnan, WFC Rossiyanka, Western New York Flash
Twitter: @Kris10Edmonds
13. Alex Morgan


Position(s): Striker
Nationality: United States
Hometown: San Dimas, California
Date of Birth: 02/07/1989
Height: 5 ft 7 in
Former Clubs: West Coast FC, California Storm, Pali Blues, Western New York Flash, Seattle Sounders, Portland Thorns FC
Twitter: @AlexMorgan13
14. Alanna Kennedy


*On Loan To Melbourne City*
Position(s): Defender, Midfielder
Nationality: Australia
Hometown: Campbelltown
Date of Birth: 21/01/1995
Height: 5 ft 9 in
Former Clubs: Sydney FC, Newcastle Jets, Western Sydney Wanderers, Perth Glory, Western New York Flash, North Carolina Courage
Twitter: @AlannaKennedy
15. Rachel Hill


*On Loan To Perth Glory*
Position(s): Striker
Nationality: United States
Hometown: Rollinsford, New Hampshire
Date of Birth: 17/04/1995
Height: 5 ft 5 in
Former Clubs: University of Connecticut, Portland Thorns FC
Twitter: @R_Hill3
17. Dani Weatherholt


Position(s): Midfielder
Nationality: United States
Hometown: Capistrano Beach, California
Date of Birth: 17/03/1994
Height: 5 ft 8 in
Former Clubs: Santa Clara University
Twitter: @DaniWeatherholt
19. Aubrey Bledsoe


*On Loan To Sydney FC*
Position(s): Goalkeeper
Nationality: United States
Hometown: Cincinnati, Ohio
Date of Birth: 20/11/1991
Height: 5 ft 9 in
Former Clubs: Los Angeles Blues, IK Grand Bodø, Sky Blue FC, Fortuna Hjørring (Loan)
Twitter: @AubreyBledsoe
20. Nickolette Driesse


Position(s): Midfielder, Defender
Nationality: United States
Hometown: Wayne, New Jersey
Date of Birth: 08/11/1994
Height: 5 ft 5 in
Former Clubs: North Jersey Valkyries, Florida State University, Penn State University
Twitter: @NikkiDriesse
21. Mônica


*On Loan To Atlético Madrid*
Position(s): Defender, Midfielder
Nationality: Brazil
Hometown: Porto Alegre
Date of Birth: 21/04/1987
Height: 5 ft 8 in
Former Clubs: SV Neulengbach, Botucatu, Foz Cataratus, Ferroviária, Flamengo, Adelaide United (Loan)
Twitter: @MonicaHickmannA
23. Jasmyne Spencer


Position(s): Striker
Nationality: United States
Hometown: Bay Shore, New York
Date of Birth: 27/08/1990
Height: 5 ft 1 in
Former Clubs: New York Fury,  Brøndby IF, Washington Spirit, Apollon Limassol (Loan), Western New York Flash, Sydney FC (Loan), Canberra United
Twitter: @Jas_It_Up
24. Ashlyn Harris


*Club Captain*
Position(s): Goalkeeper
Nationality: United States
Hometown: Cocoa Beach, Florida
Date of Birth: 19/10/1985
Height: 5 ft 9 in
Former Clubs: Pali Blues, Saint Louis Athletica, Washington Freedom, Western New York Flash, FCR 2001 Duisberg, Washington Spirit, Tyresö FF (Loan)
Twitter: @Ashlyn_Harris
-. Nádia Gomes


Position(s): Striker
Nationality: United States
Hometown: Sandy, Utah
Date of Birth: 09/11/1996
Height: 5 ft 6 in
Former Clubs: Brigham Young University
Twitter: @Nadia_Gomes06