Turmoil probably isn't too harsh word to describe the current plight Orlando City SC find themselves within following the Lions' 2-0 road loss to New York Red Bulls on Wednesday.
With interim head coach Bobby Murphy now having overseen two fixtures whereby City have failed to register a single goal in his brief tenure, things are far from good right now.
Clearly playing with zero confidence following the controversial departure of Adrian Heath recently, there is a huge onus upon Orlando City SC's Front Office to secure Inchy's full-time successor and fast.
While qualification for the end-of-season MLS Cup play-offs is still very much possible with the Lions only a point below the line following Gameweek 19, it's difficult to see Orlando City SC putting a run together in their current mindset.
Far too easy to score against not only recently but in the 2016 MLS campaign as a whole, Joe Bendik has been keeping the scores down in reality.
Conceding AT LEAST TWO GOALS in TWELVE of our eighteen league fixtures so far this term, there is so much onus on the Lions' attack to outscore the opposition with the defence surrendering way too many goals.
What's more, with club captain and talisman Kaká having missing his NINTH game of the season when ruled out of the midweek New York Red Bulls trip, Orlando City SC are playing with no direction in this difficult post-Adrian Heath period.
With the Vancouver Whitecaps fixture falling as the middle piece of a tough three-game away streak, Saturday night's fixture represents the FIRST TIME Orlando City SC have ever travelled to BC Place to take on Carl Robinson's Caps.
Coming off the back of a 2-0 win over Real Salt Lake in midweek, the Canadian outfit were sixth (28 points) in the Western Conference following Gameweek 19.
2015 head-to-head stats
It was Orlando City SC who enjoyed the home honours when these two sides met last term, as early on as the third game of the 2015 MLS regular season.
The fixture marked the FIRST EVER meeting between the Caps and the Lions with the two sides having avoided each other in any pre-season friendly of sorts.
However, Lions supporters won't have fond memories of the game with a solitary goal from Octavio Rivero breaking City supporters' hearts in as late as the 96th minute in a 0-1 away victory for the Canadian side.
Orlando City SC 0 Vancouver Whitecaps 1 – Highlights – March 21, 2015 (Credit: Vancouver Whitecaps FC)
With Kaká's stoppage time equaliser against New York City FC coming a home game earlier at the Citrus Bowl, Orlando City SC supporters were just getting used to the concept of stoppage time drama at home that has now become commonplace!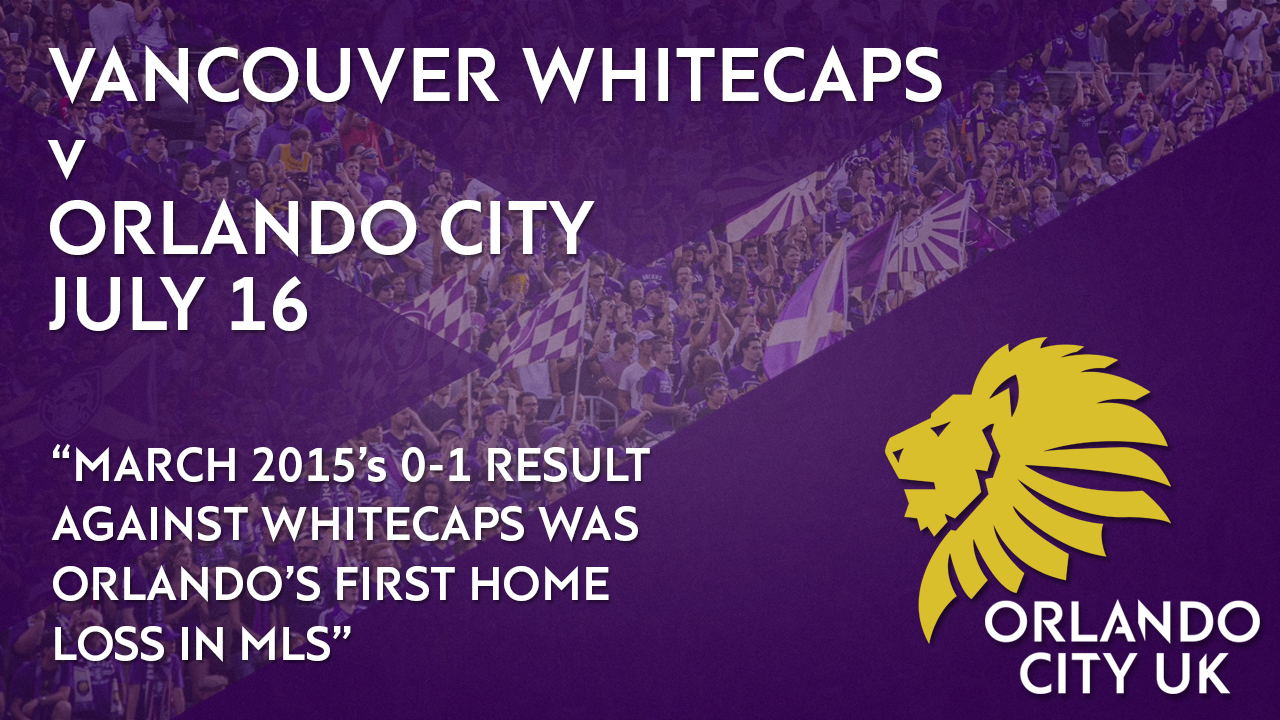 Vancouver Whitecaps' March 2015 victory at the Citrus Bowl was also hugely historical from an Orlando City SC standpoint.
But unfortunately for the wrong reasons because Carl Robinson's side had become the very FIRST Major League Soccer outfit to have inflicted a home defeat onto Adrian Heath's men.
As we all know by now, we've grown used to rarely surrendering all three points at home ever since.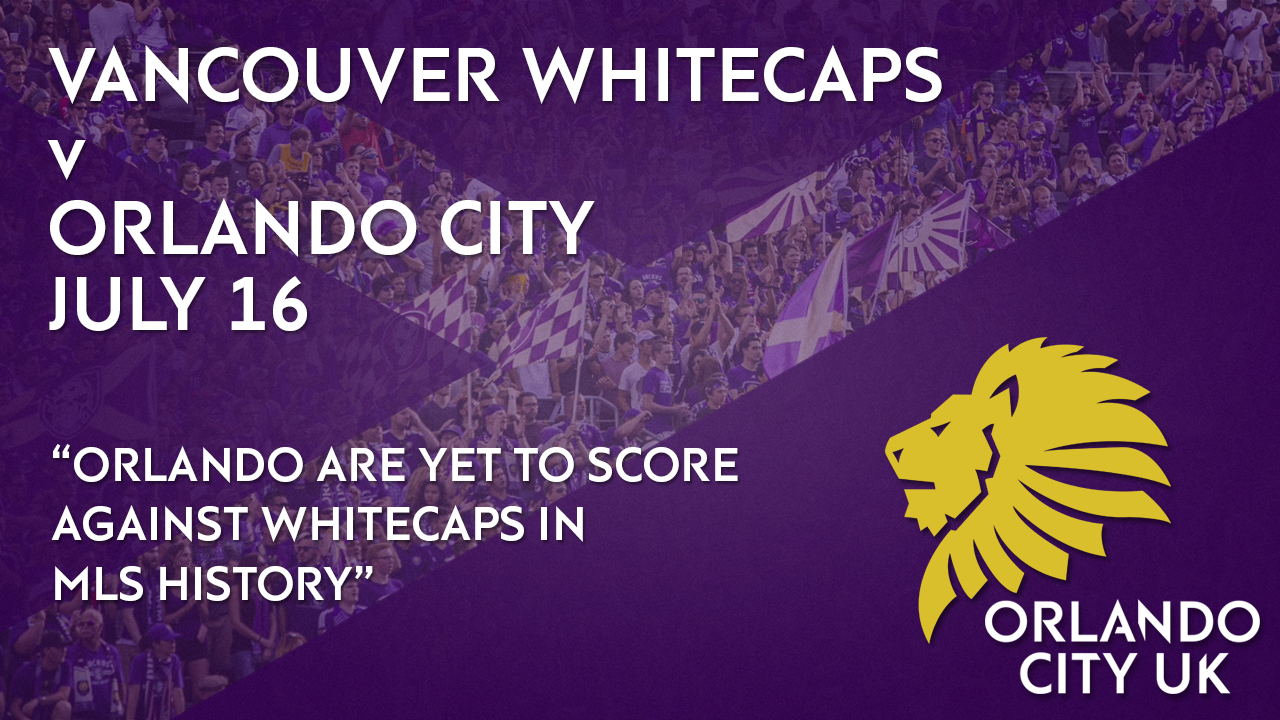 It goes without saying that with these sides only having played once with Caps prevailing 0-1 last time out, Orlando City SC are yet to register a goal against the Canadian side in Major League Soccer.
Orlando City SC will have to do something they failed to do against FC Dallas, Houston Dynamo and then New York Red Bulls however.
And that's putting the ball in the net at least once!
Perhaps Cyle Larin will earn a start in his Canadian homeland having been strangely benched for the incoming Carlos Rivas at Red Bull Arena on Wednesday evening.
Vancouver Whitecaps form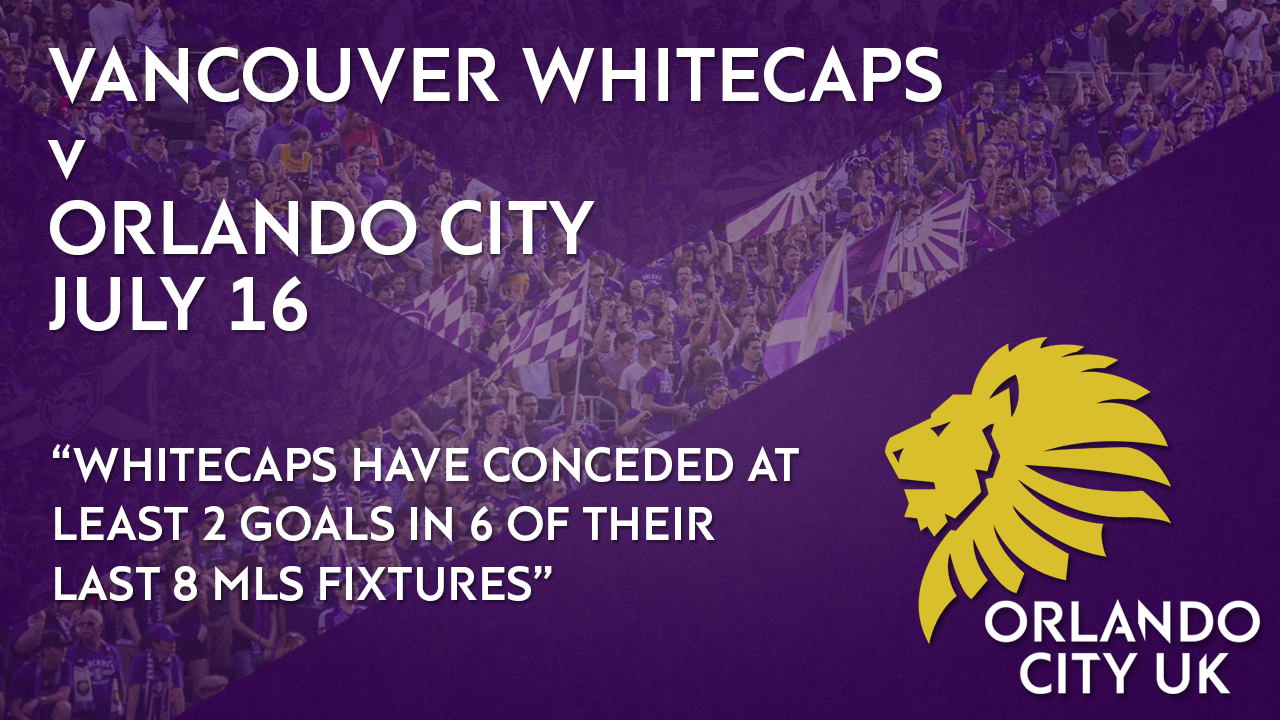 Vancouver Whitecaps are currently enduring middle-of-the-road status in the MLS Western Conference, trailing pacesetters FC Dallas by nine points.
The huge problem for Carl Robinson's side is that the Caps have conceded way too many goals so far this term.
Sound familiar?
Boasting the unwanted stat of having CONCEDED THE MOST goals in the Western Conference (33) so far in 2016, they are leaving themselves too much to do just like Orlando City SC.
While this will offer Bobby Murphy's side some encouragement that they can score, it must be said that Caps managed to kick their conceding habit when defeating Real Salt Lake 2-0 at BC Place in midweek.
Vancouver Whitecaps 2 Real Salt Lake 0 – Highlights – July 13, 2016 (Credit: Real Salt Lake)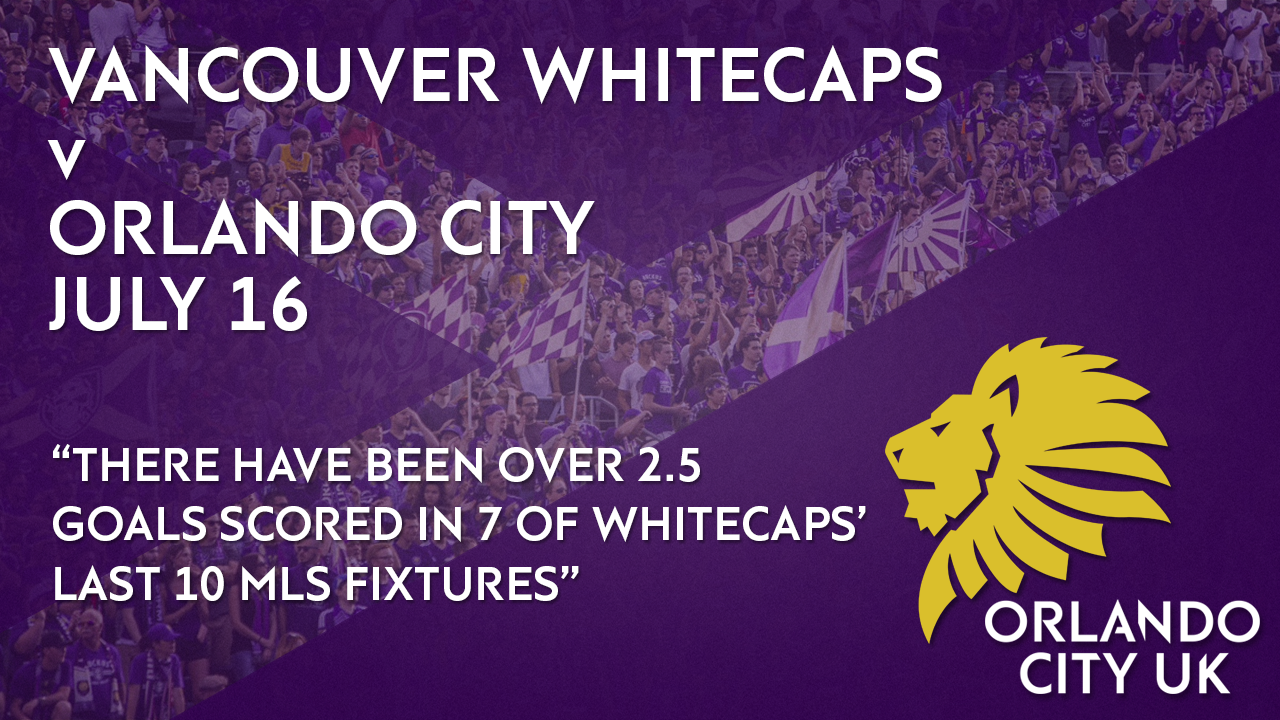 With Vancouver Whitecaps shipping so many goals this term, it is only natural that the stats confirm there have been OVER 2.5 GOALS scored in SEVEN of the Caps' last TEN MLS fixtures.
While the Canadian side have conceded the most goals (33) in the Western Conference so far this season, they are tied in first place for the most goals scored (31) also.
Given what we know of Orlando City SC's defensive deficiencies right now, expect this one to be another high scoring affair.
Orlando City SC form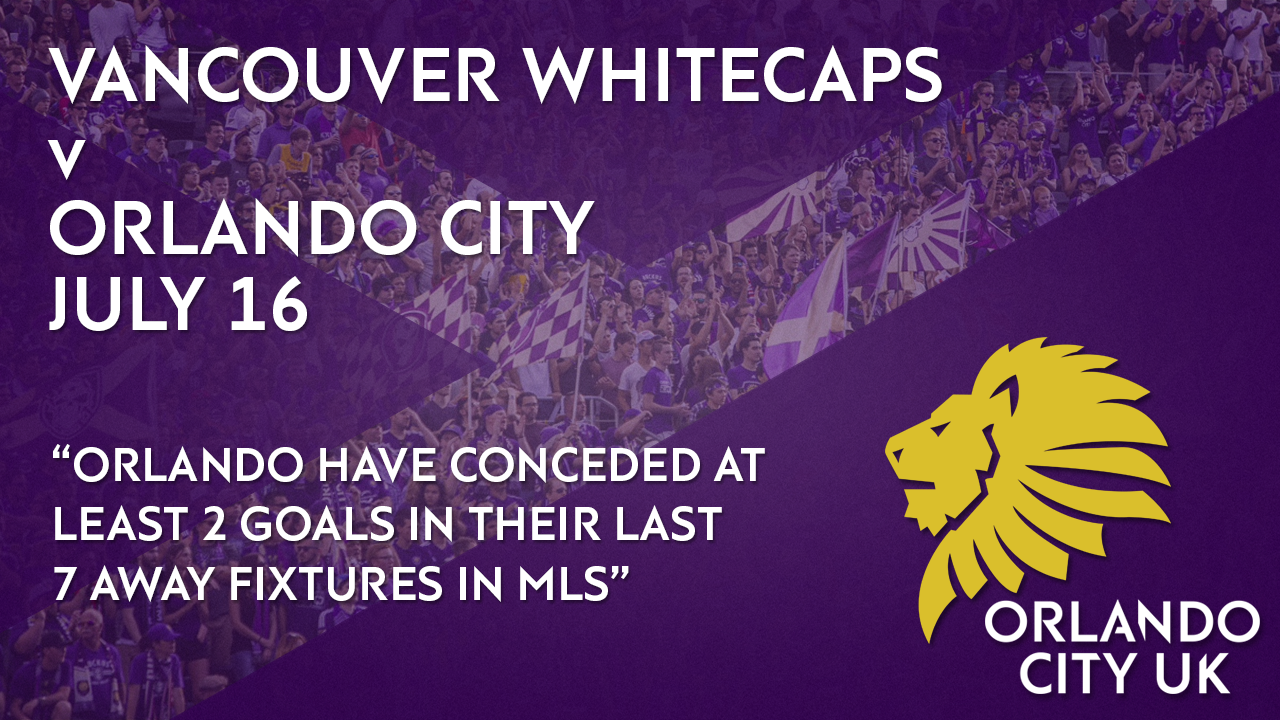 While it wasn't as rampant as FC Dallas' 4-0 demolition of Orlando City SC three games ago, New York Red Bulls' 2-0 victory over the Lions was still far too easy.
New York Red Bulls 2 Orlando City SC 0 – Highlights – July 13, 2016 (Credit: New York Red Bulls)
Conceding AT LEAST TWO GOALS in every away fixture since March's 0-1 smash and grab victory at New York City FC, you can't really point the finger at Joe Bendik who has tried his utmost to keep the Lions in games.
It's rather the defensive unit as a whole and particularly David Mateos, Seb Hines and Luke Boden who need to be upping their game at present.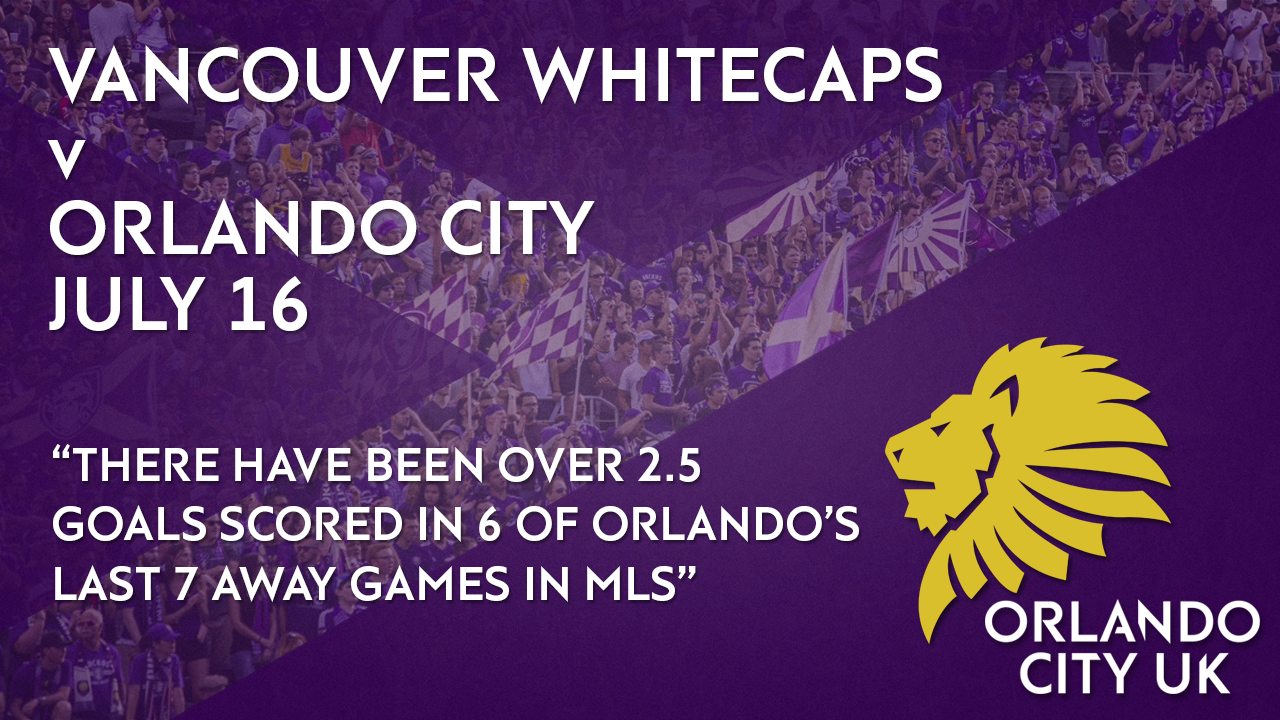 The midweek 2-0 loss to New York Red Bulls was the first time we've witnessed an Orlando City SC game with fewer than 2.5 GOALS in the Lions' last SEVEN road fixtures.
Keeping just THREE clean-sheets all season against New York City FC away, Jacksonville Armada away and Houston Dynamo at home, we're making it way too easy for the opposition too score against us right now.
Only we can dig ourselves out of this current rut!
Three points on the road at Vancouver Whitecaps would be massive in terms of belief but given the sheer distance from our last road game in New Jersey to British Columbia within just a few days, it looks an incredibly tall order on paper!