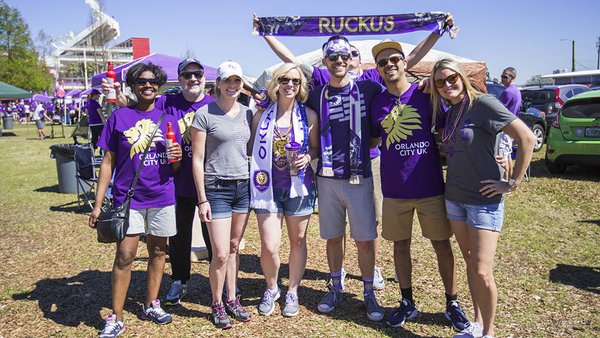 Here at Orlando City UK, I am absolutely thrilled to say that I will be travelling to Central Florida to watch Orlando City SC live for the second time next week.
Arriving in Orlando on Wednesday March 1st and staying until Friday March 10th, I can't wait to meet as many familiar names from Twitter as possible.
If you guys want to catch up with us and chat all things Orlando City SC, we'll be attending these events…
Lucky enough to have been brought up on many holidays to Orlando as a kid, I've been familiar with the city for a long time now but last March, I watched my first ever live Orlando City SC fixture – the incredible 2-2 comeback draw against Real Salt Lake.
Absolutely blown away by the experience, particularly the U.S. phenomenon that is tailgating, it was fantastic to meet the likes of Kirk Chin, Phil Rawlins and Kay Rawlins – personalities who live and breathe all things Orlando City SC.
It was great to meet those guys but also everybody else who gave us the friendliest of welcomes, from touring the Orlando City SC Front Office downtown to roaming around Lot 11 at Camping World Stadium.
When tailgating back in March 2016, I was extremely overwhelmed to hear how many of you guys had heard of us already through our @Orlando_CityUK Twitter account.
Not only that but it was great to hear many messages of support for our Orlando City UK Lion logo and our general interest in the club from across the pond.
We have many exciting plans in place for our 10-day vacation in Orlando this year and provided Orlando City UK followers with a little sneak peak of one of our surprises this week.
SOON ✈️ | #OrlandoCityUK in the States from March 1️⃣st! ??

Lots of exciting things planned! ??

Love to meet as many of you as possible! ? pic.twitter.com/zRG7A5lLuO

— Orlando City UK (@Orlando_CityUK) February 21, 2017
All that remains to say is that I can't wait to step inside our brand new Orlando City Stadium and hope that we bag all three points against NYCFC!
Vamos Orlando
Taylor