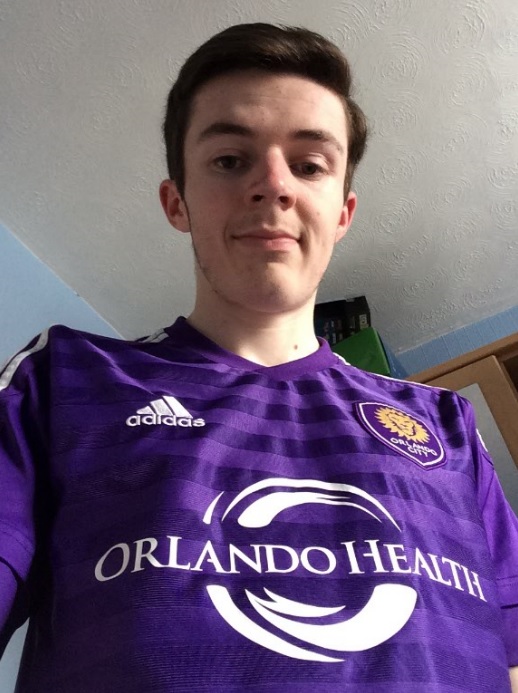 After having the time of our lives on our recent trip to watch Orlando City SC play live, we detected even more UK interest in the Lions heading into the 2017 season.
Only recently signing up as an Orlando City UK member, Nick Trump – an Orlando City SC fan from Barnstaple in South West England – told us just why he follows Jason Kreis' Lions so passionately.
Here's what Nick had to say when catching up with Orlando City UK lately.
Nick Trump: Why I support Orlando City SC
Having visited the city of Orlando five times within 19 years, I've always felt the place had something special about it.
How can it not when it has superb features such as International Drive, Walt Disney World, Universal Studios and many more great attractions? Although one major attraction was missing – a football team.
Since November 19th 2013 when Orlando City SC were officially announced as Major League Soccer's 21st franchise, my particular love affair began.
Seeing the club had fellow Englishmen involved such as Adrian Heath and Seb Hines was reassuring while the capture of Kaká was mightily impressive.
I was lucky enough to be in the city during March 2015 which marked the start of the club's inaugural MLS season. One aspect that stood out more than anything was the incredible fanbase the club had.
Around the entire city, everyone was fully aware of the club's presence – the busses with #GoLions slogans plastered around the side, the sheer amount of fans wearing the brand new purple jersey and most importantly, the togetherness of all the fans.
In my opinion, Orlando City SC supporters are the loudest around having watched the incredible 2017 season opener, a 1-0 victory against New York City FC at our impressive new Orlando City Stadium home.
One Orlando City SC memory I'll always cherish is when Kaká netted the last minute equaliser from his deflected free kick in our first ever MLS match against NYCFC with an incredible 62,510 fans helping to #FillTheBowl.
It was from this moment that I knew the club was  going places.
MLS has always been an underrated division in my opinion and with the games now regularly being shown live on Sky Sports, it's so much easier to follow the league's progress.
It's a joy to watch the likes of Joe Bendik, Kaká and Cyle Larin grace the pitch on my TV. I still keep dreaming that one day I will hopefully manage to get out to Orlando again to watch a live Orlando City SC fixture.
With Orlando City SC marginally missing out on making the 2016 MLS Cup Playoffs, I am predicting a strong Eastern Conference finish this current campaign and will be proud whatever the team produces.
I believe that despite Orlando City SC still being a young club, it has a loyal fan base to help the franchise become one of the most respected teams within Major League Soccer. This can only help in attracting even more big names to Central Florida.
So I'm wishing Orlando City SC all the very best for the future and I'll most certainly be following!
#DefyExpectations
Nick Trump