There's no doubting that Orlando City SC are suffering a real lack of confidence right now after going SIX games without a win in Major League Soccer.
Defeated 1-0 by a familiar face in Adrian Heath's Minnesota United last time out, the performance was particularly feeble from Jason Kreis' Lions.
Beaten in FOUR of our last SIX MLS fixtures, the honeymoon start we made to the 2017 campaign has now long been forgotten with Orlando City SC looking like a team of strangers right now.
While it's true that May has been a demanding month for the Lions with seven separate fixtures packed in, the lack of chemistry in our play has been the most alarming factor.
Cyle Larin has really suffered from a lack of service from midfield and with Kaká in and out the team, we are really suffering from a lack of quality outside our star duo.
With no time to rest in our laurels, Orlando City SC now crucially embark on a series of three consecutive home games in which we can turn our faltering form around.
As for our opponents D.C. United, Ben Olsen's side have struggled so far this season, sitting tenth in the Eastern Conference on 14 points after 12 games played.
Stopping a three-game losing streak with a slender 0-1 victory at Vancouver Whitecaps last time out, the Black and Red's spirits will be lifted and what's more, they've enjoyed their fair share of success over the Lions in the past.
Although Orlando City SC have won TWO of the last THREE head-to-heads, D.C. United have enjoyed the better of this game series so far and with the Lions' confidence fragile right now, this game will be anything but easy.

2015/17 head-to-head stats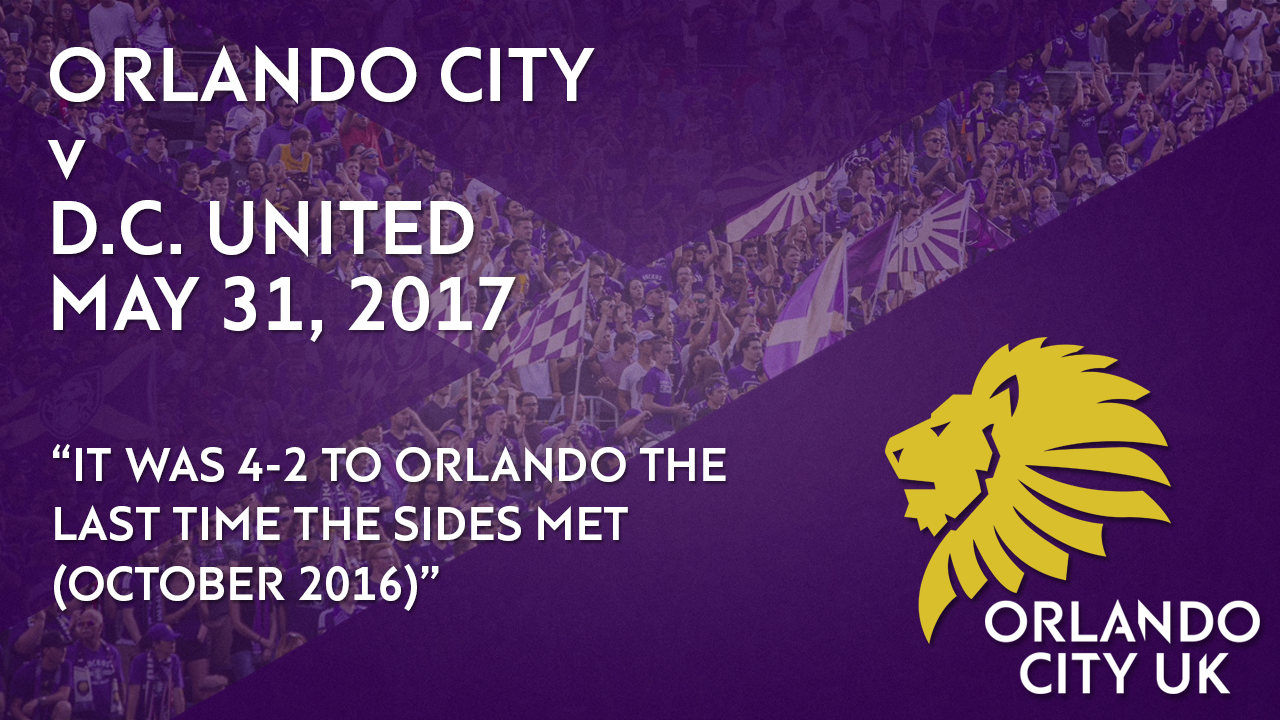 It was a jovial occasion the last time the sides met as we successfully waved goodbye to Camping World Stadium in the final fixture of the 2016 MLS season.
Defeating D.C. United 4-2 in a topsy turvy game at our former home, it only took Orlando City SC 21 minutes to tail into a two-goal lead through both Kevin Molino and Kaká.
However, Ben Olsen's side never gave up in this game, pegging the score back to 2-1 through Álvaro Saborío and later 3-2 through Kennedy Igboananike.
A quiz question for eternity however, the answer to the final ever Orlando City SC goalscorer at Camping World Stadium was Julio Baptista who made sure of all three points with a 89th minute strike.
Orlando City SC 4 D.C. United 2 – Highlights – October 23, 2016 (Credit: Major League Soccer)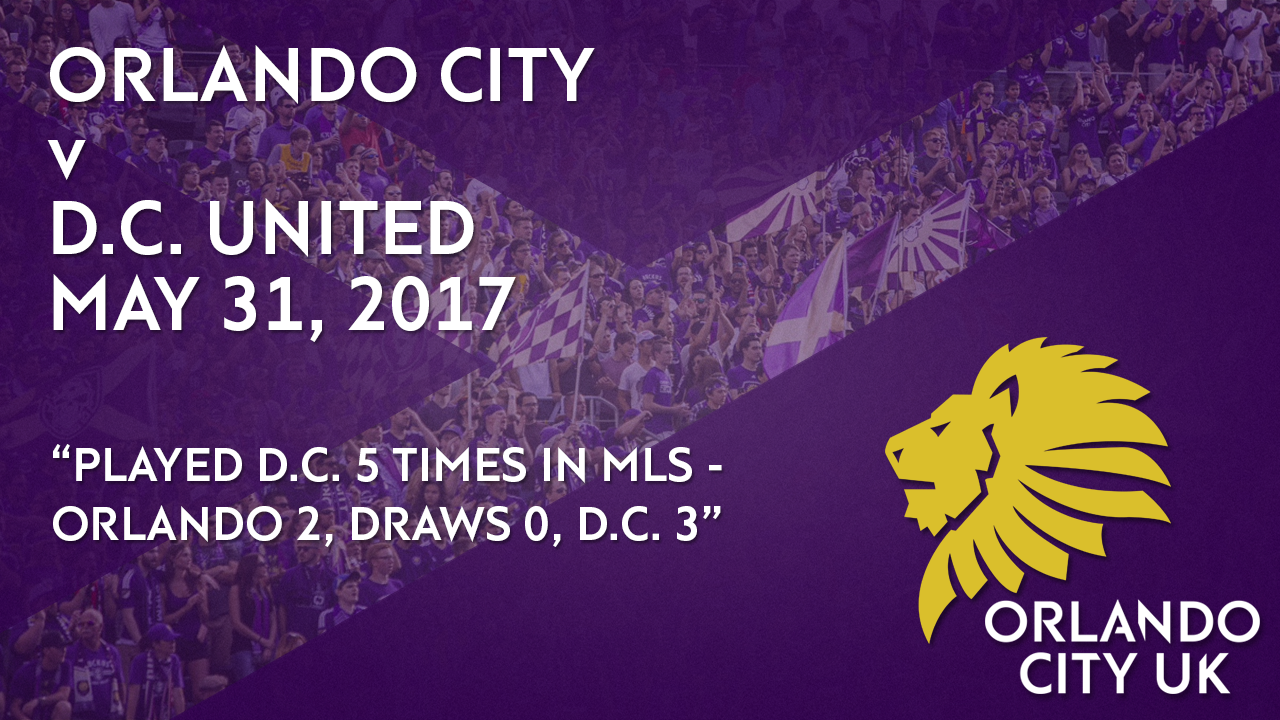 Despite being an Eastern Conference side like Orlando City SC, the Lions have only faced D.C. United FIVE times in MLS to date, three times in our inaugural campaign and twice last season.
After five head-to-heads, it's the Black and Red who hold the advantage in this game series, inflicting a particularly painful 4-1 defeat on the Lions towards the back end of 2016.
D.C. United 4 Orlando City SC 1 – Highlights – September 24, 2016 (Credit: Major League Soccer)
A result that effectively hammered a nail into our coffin regarding our dwindling chances of making the 2016 MLS Cup Playoffs, we've at least beaten Ben Olsen's side since.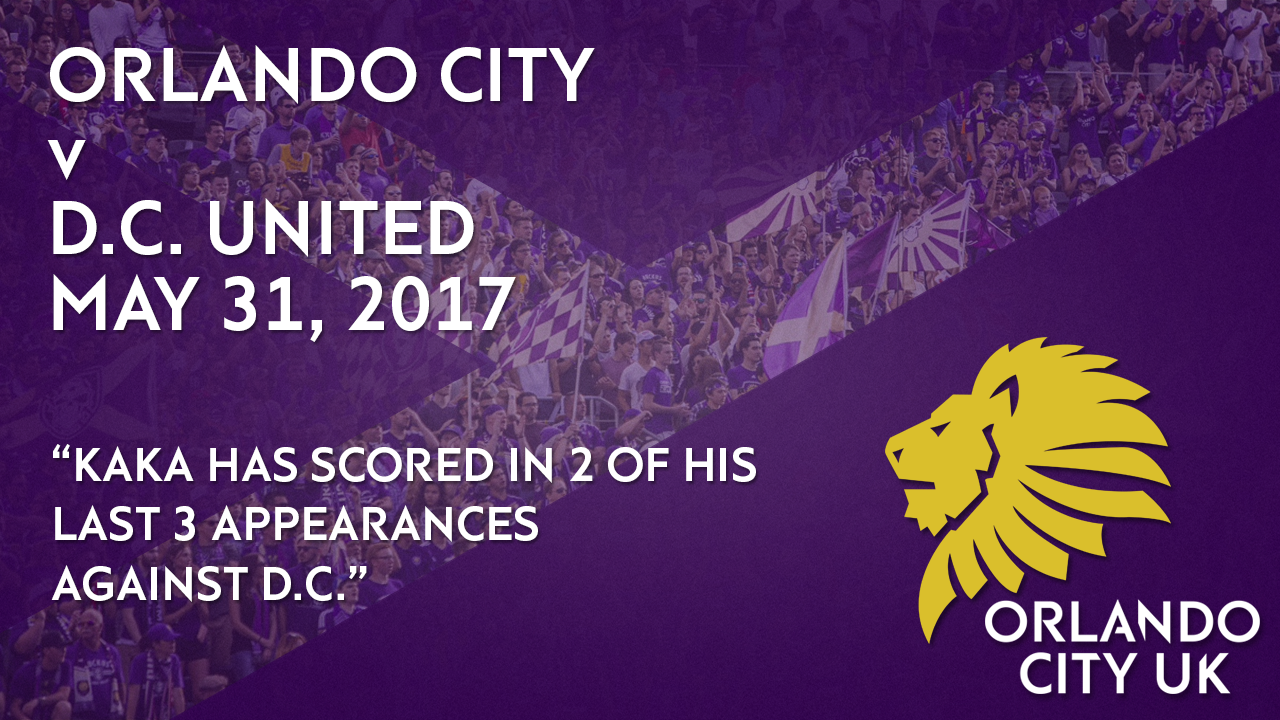 Missing from Orlando City SC's recent trip to Minnesota United through injury precaution, we're all hoping Kaká is back to face D.C. United in midweek.
Despite our Brazilian superstar now being in the twilight of his career, we're still overly reliant on Ricky creating chances for Cyle Larin and Carlos Rivas.
Not only that but Kaká also enjoys a decent goalscoring record against D.C. United, scoring in TWO of his last THREE appearances against Ben Olsen's team.
Orlando City SC form
Winning SIX of our first SEVEN games so far this season, the tale has been oh so different recently.
Our fantastic start has been just that with Jason Kreis' men unable to carry through the same hunger, desire and determination we saw throughout March and April.
Really struggling for confidence since the narrow 2-1 defeat at Toronto FC on May 3rd, it appears the Lions are devoid of confidence right now with no flow to our game.
Given the fixture pile-up in May, not to mention multiple long-haul road games, Jason Kreis has been forced to rotate his starting eleven, handing rare starts to PC, Luis Gil and Matías Pérez García at Minnesota United.
Unfortunately, these changes haven't worked out with Orlando City SC looking like a team of strangers at the minute.
Minnesota United 1 Orlando City SC 0 – Highlights – May 27, 2017 (Credit: Major League Soccer)
D.C. United form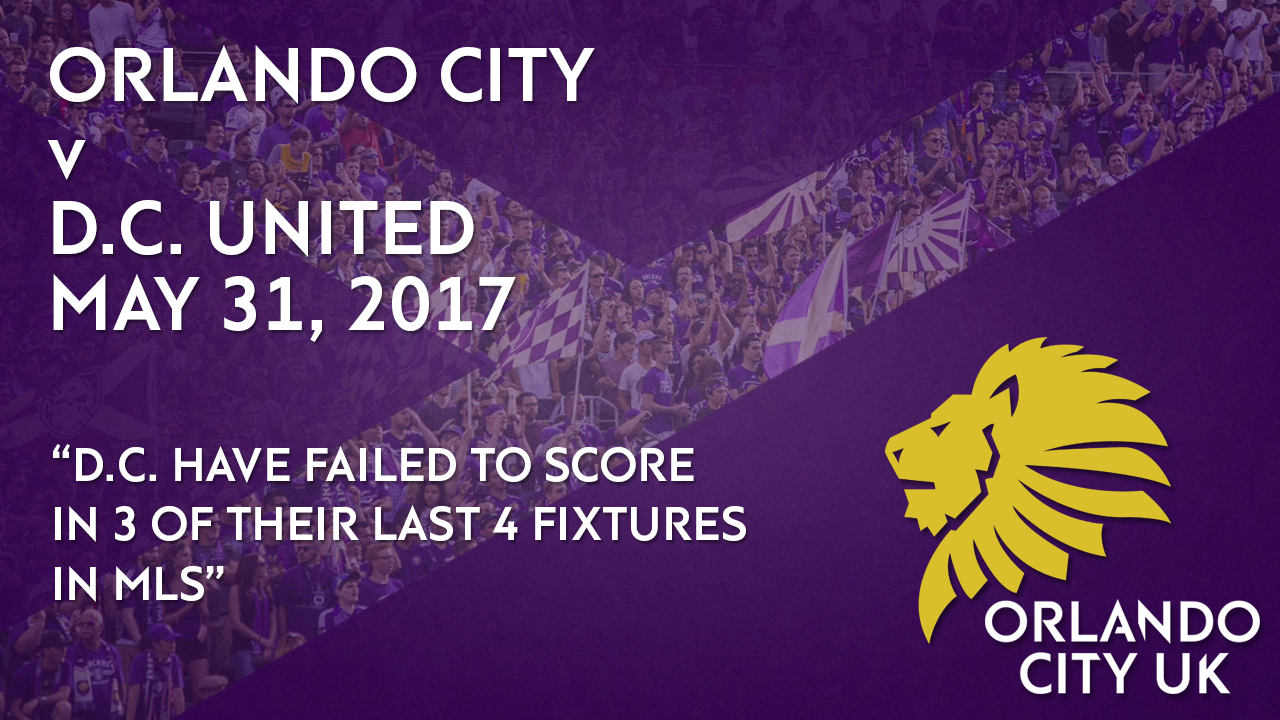 If you thought we were struggling recently, so too have D.C. United with the Black and Red failing to score in THREE consecutive home games at RFK Stadium.
Drawing a blank against Montreal Impact, Philadelphia Union and Chicago Fire, D.C. United have scored the joint fewest amount of goals (10) in Major League Soccer so far this season.
With Patrick Mullins in and out of the side and Sébastien Le Toux hardly prolific, D.C. United have been pretty toothless in front of goal but given Orlando City SC's recent fragility, this one looks evenly matched.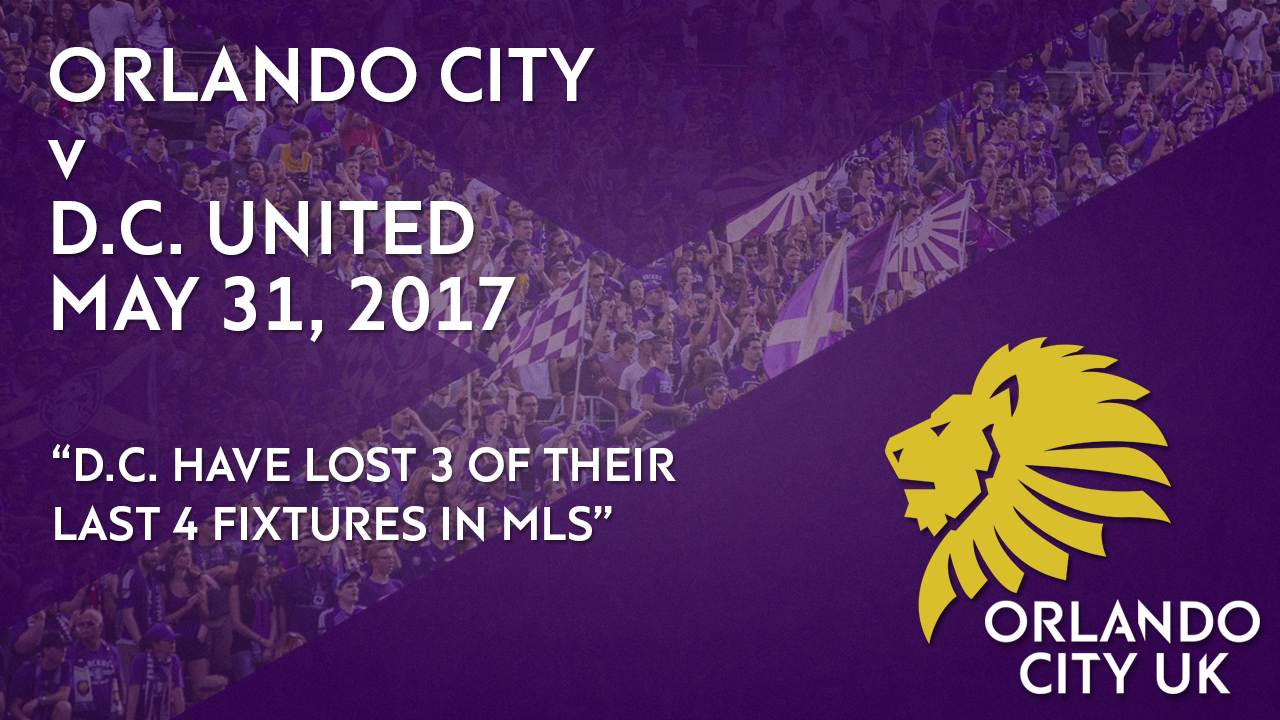 When you're not scoring many goals, you're naturally not going to win too many soccer games and that's been the case for D.C. United.
Ben Olsen's side lost all THREE of those aforementioned home games where they drew a blank although they did manage to grab a noteworthy 0-1 victory at Vancouver Whitecaps last time out.
A game that Whitecaps dominated, D.C. United were handed an incredibly soft penalty when Sorin Stoica adjudged that Kendall Waston had tugged José Ortiz down in the box.
With Lamar Neagle converting the resulting penalty kick, Ben Olsen would've have cared how this much-needed three points came about.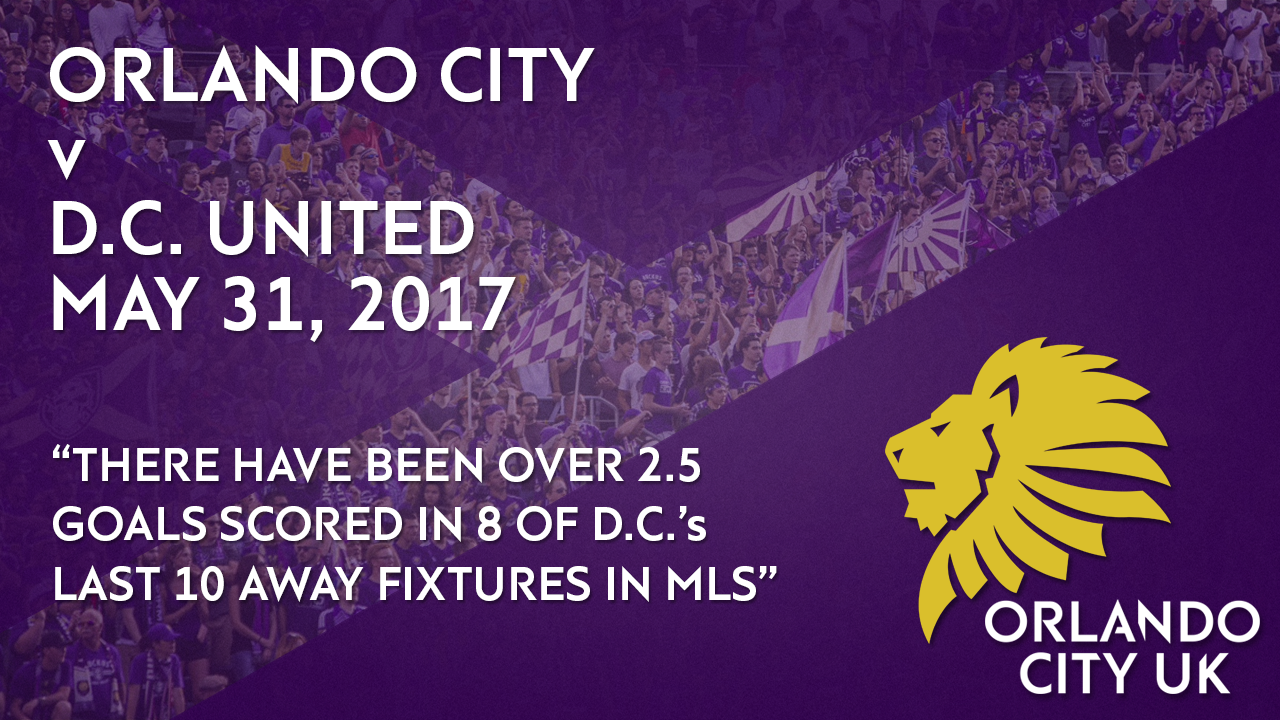 When D.C. United hit the road, we usually get goals and lots of them!
In EIGHT of D.C. United's last TEN away fixtures in MLS, we've seen OVER 2.5 GOALS being scored.
With Orlando City SC drawing a blank in front of goal in our last two fixtures and D.C. United anything but free scoring this term, something has to give in this latest encounter.