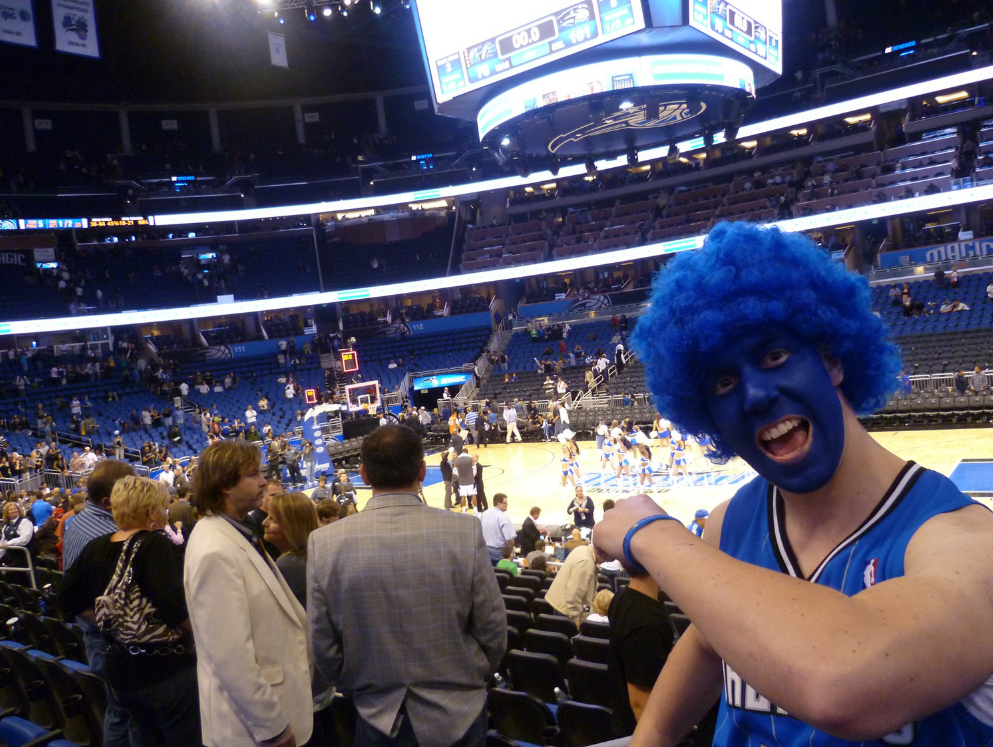 Here at Orlando City UK, we're lost without any competitive Orlando City SC fixture to look forward to until March 2018 at the earliest.
With this being the case, we saw it fit to reach out to our new friends over at Orlando Magic UK, a British website dedicated to supporting Orlando Magic of NBA.
Starting Orlando City UK in 2015 out of complete and utter admiration for Major League Soccer reaching The City Beautiful, we were delighted to recognise the same passion and enthusiasm for Orlando's professional basketball team.
A joint collaboration between Somerset-based Mikey Clark and Cardiff-based Geraint Jones, Orlando Magic UK describe themselves as the United Kingdom's very first fan page for the Orlando Magic.
Establishing their Twitter handle @ukorlandomagic in April 2017, Orlando City UK caught up with Mikey to tell us more about Orlando Magic UK and just why he loves the team so much.
How did the process of forming Orlando Magic UK come about?
It all started at the 2016 NBA Global Games at the O2 Arena in London when Orlando Magic played the Toronto Raptors.
I'd been following other UK-based Orlando Magic fans on Twitter and we thought it would be a great idea to meet up before the game for a few drinks and talk basketball.
We've all stayed in touch and became good friends, and decided it would be fun to set up a site where we can connect with other Magic fans from the UK
How did you fall in love with Orlando Magic?
I was 15 when I visited Orlando on a family holiday and while we were there, I attended my first Magic game versus Philadelphia 76ers at the old TD Waterhouse Center.
I remember sitting there in awe, watching Tracy McGrady make crazy shots and dunking on Dikembe Mutumbo.
From that moment on I was hooked on Orlando Magic.
What are the benefits of following Orlando Magic UK?
We want OMUK to be a place where fans can talk about Orlando Magic, ask questions, check out the latest news, find out tip off times in the UK and share photos rocking Magic gear.
We have launched a new website www.orlandomagicuk.com, you can follow us on Twitter at @ukorlandomagic and on Facebook at /ukorlandomagic.
If you're a Magic fan, we'd love to hear from you.
Who is your favourite Orlando Magic player of all time and currently?
My favourite Orlando Magic player of all time is Tracy McGrady and currently, I'd have to say Elfrid Payton.
Where do you think Orlando Magic will finish this season?
At the beginning of the season I predicted we would win 34 games and miss the playoffs.
However, to my delight the Magic are off to a very good start (6-3) and I think we will finish eighth and make the playoffs.
How many times have you seen Orlando Magic play live?
I've been to 19 Magic games in Orlando but I've also been on the road and watched them play in Boston, Brooklyn, New York and at the O2 Arena in London.
What is your favourite Orlando Magic memory so far?
In 2009 beating LeBron James and the Cleveland Cavaliers in the Eastern Conference Finals, and the Magic winning game three of the NBA Finals
How do you go about raising awareness of Orlando Magic in the UK?
Orlando Magic already have a great following in the UK and we want to hear from more fans.
Geraint and I will be going to the 2018 NBA Global Games in January (Boston Celtics versus Philadelphia 76ers) to meet fans and let them know about the great things that we have going on at Orlando Magic UK.
We've partnered with the Orlando Magic Podcast and are planning to make a few appearances on that platform this season.
We want to continue to grow our following on Twitter where fans can reach out to us.